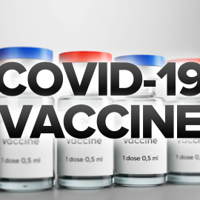 Boone County Health Department partners with MU for 'comfort clinic' | Information on COVID-19 vaccines and tests
COLOMBIA – A COVID-19 vaccination clinic will be available on Saturday, April 30 for local residents who are worried about needles or vaccines.
Columbia/Boone County Public Health and Social Services will be hosting a "comfort clinic" from 10 a.m. to 1 p.m. Saturday.
The comfort clinic is open to all ages interested in getting the COVID-19 vaccine who may be worried about needles or the process of receiving a shot, according to a news release.
"It's really for people who are afraid of needles, or who may have had a traumatic experience as a child getting the shot," said Trina Teacutter, nurse supervisor at PHHS. "Or just have a special need to get vaccinated where they might need extra support or extra comfort for a vaccination clinic."
The clinic will be sensory, with additional comfort measures available to patients. This includes anxiety reduction exercises, distraction tools and private vaccination rooms. Volunteers will also be trained in evidence-based therapeutic interventions.
"We really want to reach people who may have delayed getting the COVID vaccination, because of those fears or past experiences," Teacutter said.
She also said that sometimes it is difficult in a mass vaccination situation to take the extra time and have the extra measures to provide extra comfort that will be used in the clinic on Saturday.
"We wanted to take this opportunity to take that extra time, have those special volunteers available and the special tools available," she said.
Teacutter said she wanted people to know this event isn't just for kids.
"About 25% of adults are also afraid of needles," she said. "And some of those things and those experiences prevent them from being vaccinated."
Columbia/Boone County PHHS partners with child life student specialists at the University of Missouri to host the clinic.
"They will be here to provide anxiety and stress reducing activities pre-vaccination, as well as post-vaccination," Teacutter said. "Then we will also have additional staff available, as well as distraction tools and techniques that we will use to support individuals and get vaccinated."
Shannon Dier, a child life specialist and current PhD student at MU, said that even before the pandemic, many children and adults worried about getting needed vaccines.
"This is a step towards teaching them the coping skills needed to get through this experience that will hopefully improve their long-term health," she said. "We really hope to have a long-term impact on their ability to deal with these things."
She said that due to the pandemic, she learned a lot about the importance of not only physical health but also mental health.
"The pandemic has really brought to the fore the importance of not just taking care of people's physical health," she said. "We need to meet the whole child, the whole person and meet them where they are, and provide support for both their health care anxiety and their physical needs. , when it comes to taking care of their health."
The Pfizer, Moderna and Johnson & Johnson COVID-19 vaccines will be available on Saturday, with primary and booster doses available.
The health department provides COVID-19 vaccines for free, without ID or health insurance. Residents five and older are eligible for the Pfizer vaccine, and those 12 and older can receive the Pfizer booster. Moderna and Johnson & Johnson vaccines are available to anyone 18 years of age or older.
Appointments are mandatory to attend the clinic, which will be held at the Health Department Building at 1005 W. Worley Street.