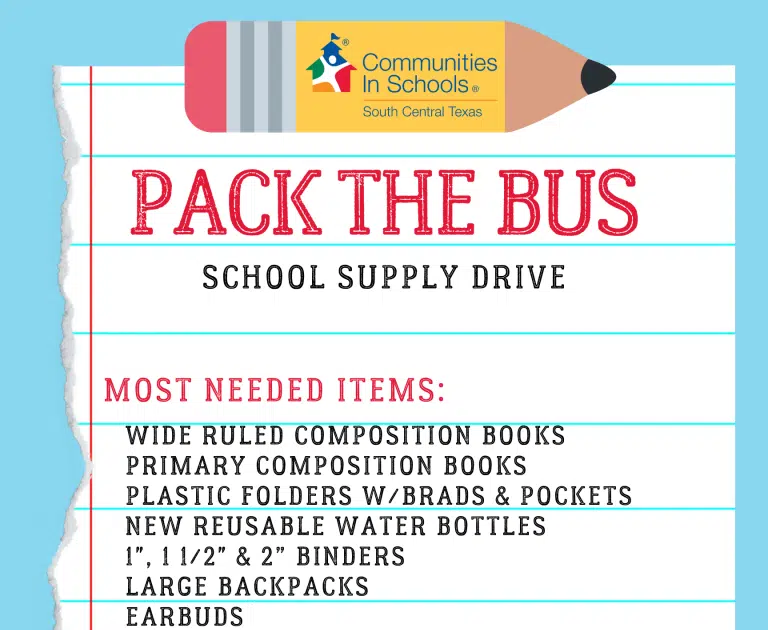 Communities In Schools will help organize the Pack the Bus collection campaign in Seguin this weekend
(Seguin) – Ensuring children return to school with everything they need takes shape this weekend as a new organization steps in to help too.
Communities in South Central Texas Schools will hold their annual Pack the Bus school supply drive on Saturday, August 6. This year, the organization that supports Seguin ISD schools will expand its efforts to Bulverde, Schertz and New Braunfels by collecting donations at HEB Seguin.
As a community service, CIS officials say they provide new school supplies to thousands of students throughout the school year. Each year, the demand for this program increases with the growth of the communities they serve. They say CIS needs help to ensure that every child in the community enters their classroom prepared and confident.
Now that the Seguin and Geronimo communities already have a tradition in place to help children, Chris Douglas, CEO of Communities in Schools, says their efforts will only be part of a community effort. She says they hope to use the connection with HEB to help raise even more supplies for students in the area.
"Communities in Schools has been collecting school supplies for over 27 yearsears in the areas we serve and we also have a partnership with HEB for HEB to allow us to be there and do what we call Pack the Bus for student school supplies and we had never been on the HEB Seguin before because we knew that the Lions Club and all the people who helped them did a fantastic job providing supplies to the students of ISD Seguin because we never wanted to step on their toes. So what we decided to do this year because HEB is our partner is to be able to be there at the store but whatever we collect there – all the supplies that are given to us go to the Lions Club so that they can donate these with their supply campaign to the students and families they have worked with for years the way they do," Douglas said. "So we will be there. We want everyone to know the name Communities in Schools because we ask the community for help in other ways, but we're just here to help the Lions Club get those school supplies to give them.
Due to changes in school supply lists, CIS hopes donors will focus on a few particular items when donating. This listing includes wide line composition books, primary composition books, plastic file folders with brads and pockets, new reusable water bottles, 1″, 1 1/2″ and 2 ", large backpacks, headphones, headphones, stylus, low odor. dry erase markers, highlighters, dividers, washable markers, metal scissors – blunt and sharp, colored pencils (map), pencil cases hasth boxes.
CIS staff, alumni, board members and volunteers throughout the day Saturday will congregate outside HEBs in each of their respective communities, including Seguin.
Supplies and cash donations will be accepted. Those unable to donate on Saturday can also drop off their supplies this week locally at Gift & Gourmet and the Seguin McQueeney Volunteer Fire Department.
Those traditional efforts in Seguin to help get kids back to school with the supplies they need will also be in full effect this Saturday at the Plaza Del Rey Mall on East Court Street.
The Geronimo Lions Club will be collecting school supplies and cash donations for Seguin and Navarro ISD students from 9 a.m. to 2 p.m.
Getting the kids ready for the classroom will also be the name of the game this weekend at the Seguin Wave Pool. The town of Seguin will not only distribute backpacks and school supplies, but will host free haircuts, snow cones, potato chips and information regarding other family services that Seguin agents. The event is free and will take place from noon to 2 p.m. on Saturday. Several drop boxes for donating school supplies are available at the various municipal offices. They include the utility billing office at Seguin City Hall or anytime (24/7) at the Seguin Police Department lobby.
Monetary donations can also be made in the form of cash or checks. Checks should be made payable to Seguin Police Department with the referenced memo, Back to School.