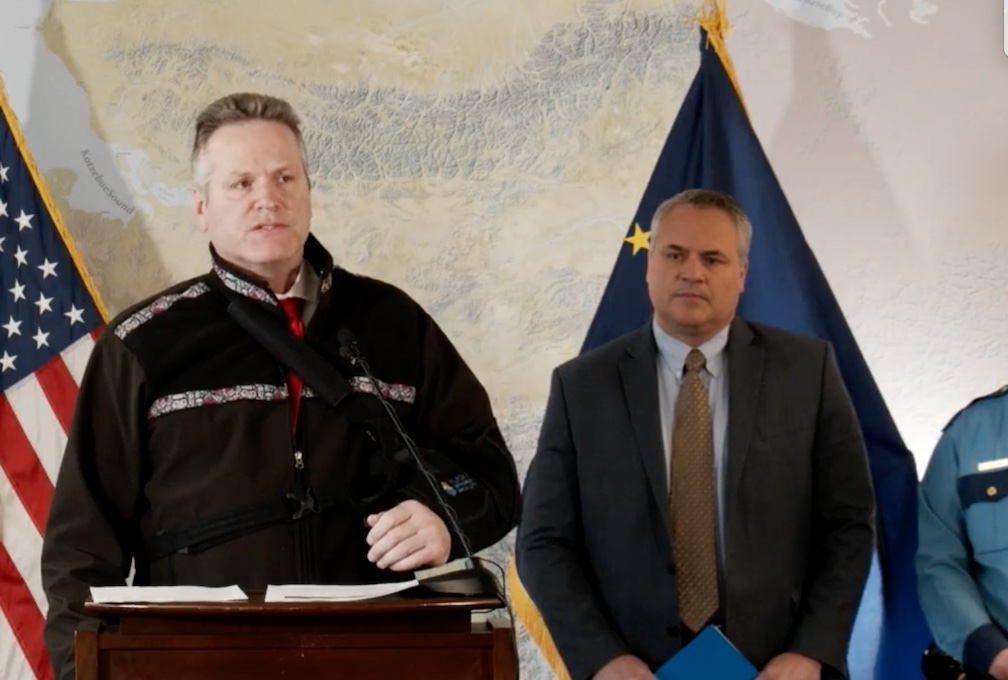 Dunleavy unveils 'People First' omnibus program to cover justice, law and order
Gov. Mike Dunleavy has announced a "People First" initiative, which will also be part of his 2023 budget to be rolled out on Wednesday.
People First involves major investments in Alaska State soldiers, village public safety officers, ending human trafficking, supporting foster families, and more.
The various initiatives within the program will involve statutory changes, budgetary expenditures, staff additions and administrative measures, with an initial cost of $ 750,000 and an annual operating cost of $ 250,000. It combines existing programs such as Choose Respect with new efforts to reduce crimes against women.
"Safety and prevention have been the top priorities of my administration since taking office," said Dunleavy. "My administration has focused on reversing these disturbing trends and statistics – we are proud to say that progress has been made."
Alaska's crime rate has declined for two consecutive years since Dunleavy signed Senate Bill 91 to repeal with House Bill 49.
"By adding major crime investigators in Bethel, Dillingham, Kotzebue and Nome, clearing the backlog of sexual assault examination kits, collecting DNA owed and increasing funding for the Tribal Compact with OCS, we let's see a change in Alaska. But there is still work to be done, "he said.
Domestic violence and sexual assault
The Dunleavy administration will propose several statutory changes in an omnibus crime bill in January, when the Legislative Assembly meets:
tackle repeated violations of protection orders
broaden the definition of serious physical injury and raise the level of offense
expand crimes deemed to be domestic violence
bail notice to victims
The administration will request $ 500,000 for the Alaska Family Justice Center feasibility study and the implementation of a pilot program. The comprehensive 'Through a Door' concept will assist victims with forensic and medical services, legal assistance, child / adult therapy, case management, legal aid, housing assistance / emergency shelter and assistance and resources to families.
Under the pilot program, all victim services will be provided in one location in coordination with partners and health and safety agencies.
"The People First initiative provides the Department of Law with the resources and support necessary to assist victims, bring perpetrators to justice and protect all Alaskans," said Attorney General Treg Taylor. "This global effort will strengthen the work we are already doing to make this state a better and safer place."
Missing and Murdered Indigenous People
Dunleavy will create an administrative ordinance that will form the Council of Missing and Murdered Indigenous People. In the FY2023 budget, we will seek funding for two Tribal Liaison positions within the Department of Public Safety and one position for the Clearing House on Missing Persons.
"The Alaska Department of Public Safety and Alaska State Soldiers are committed to our mission of ensuring public safety and enforcing fishing and hunting laws throughout the world. 'Alaska,' said James Cockrell, commissioner for the Alaska Department of Public Safety. "Public safety is the number one task of the Dunleavy administration, and this new initiative is proof of that. These additional resources to address the high rates of domestic violence, sexual assault, human sex trafficking, MMIP and other significant issues affecting Alaskans are welcome in our efforts to make Alaska a safer place. to live, work and raise a family.
Human trafficking / sexual
Legislative changes regarding trafficking in persons will be included in an omnibus crime bill that will clearly define trafficking in persons and trafficking in human beings. The bill will require that sex trafficking be a recordable sex offense. It will allow victims of sex trafficking to be removed from their records. Dunleavy will issue an administrative order reinstating a task force focused on human trafficking and sex trafficking. In addition, law enforcement will increase the training of officers to recognize signs of trafficking and interception.
Host Family and Children's Services Office
Dunleavy is taking steps to review the entire foster care system and focus on prevention to reduce the number of children in state foster care programs, including a new Collaboration Council for parents and foster parents. As of this month, 3,027 Alaskan children have been cared for by the Office of Children's Services through foster parents. The administration will address bridging programs for older foster youth, offering professional opportunities and extended grants up to the age of 21. Demonstration projects with tribal partners will help establish evidence-based best practices that qualify for future federal funding opportunities and recognize Indigenous cultural practices. The administration will focus on workforce stabilization aspects, such as compensation and retention, adding a workforce welfare unit, a unit of non-supervisors permanent staff and increasing the number of social service associates.
Roaming
In coordination with the statewide database, the administration will establish a statewide homelessness coordinator in the governor's office and add a data manager position to health and to social services. Dunleavy will issue a new administrative order focused on the overhaul of the Alaska Homeless Council.
"Alaska has struggled for a long time to resolve these issues, and it is long overdue," Dunleavy said. "Through collaboration between public, private, nonprofit and tribal partners, we can achieve these goals of putting people first and making Alaska a better place for everyone.
The overall budget rollout on Wednesday will see overall cuts, Dunleavy said. But the initiative will cost millions of dollars from savings over the past two years.
He said that "the state cannot control everything, but the state should be involved in the safety of its people, the safety of its children and the safety of its most vulnerable."