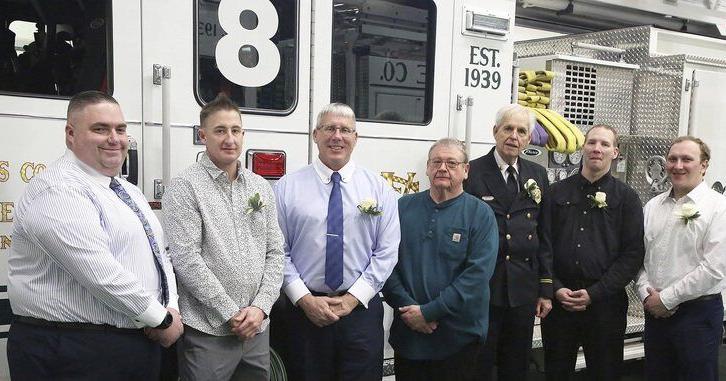 First Responders Celebrated at Wrights Corners | Community
The rescue efforts of a trio of Wrights Corners Volunteer Fire Company members were recognized in tandem with the company's 81st annual installation ceremony last weekend.
New York State Senator Rob Ortt and Assembly Member Mike Norris attended the ceremony to present proclamations recognizing the efforts of Company members Mark Hare, Christopher Brueckner and Fire Chief Jonathan J McKnight to save the life of a man suffering from a heart attack on March 10, 2021.
Survivor James Tomasine also attended the ceremony to reiterate his thanks to the volunteers. Tomasine and his wife were shopping at Wrights Corners when Tomasine fell ill. His wife called 911 and drove Tomasine to the local fire station, where Mark Hare met them and started CPR on Tomasine. McKnight and Brueckner quickly joined in, resuscitating Tomasine in an ambulance en route to the hospital.
During the installation, service awards were presented to: Charles Smith, uncle of Fire Chief JJ McKnight, 55 years of service with the company; Sharon Drew, McKnight's mother, 35 years of service to the company's Ladies Auxiliary; and firefighters Kevin Guay, 35, and Tracy Jufer, 30.
Also, these members who joined the company in 2021 were recognized: Sean Fisher, Adam Gillespie, Katie Langdon and Wallace Linderman; and members of the Women's Auxiliary Tracy Williams, Annette Mietlicki and Jill Pietkiewicz.
Installed as fire line officers for 2022: McKnight, fire chief; Ryan Dickinson, First Deputy Chief; Jeffrey Seefeldt, Second Deputy Chief; Kevin Hunter, Third Deputy Chief; Jeffrey Lee, master mechanic; Christopher Brueckner, fire brigade captain; and Michael J. Norwood, Parade Marshal.
Installed as administrative officers were: Kyle LaRuffa, President; Michael J. Norwood, vice-president; Gregory Birke, treasurer; Penny Lymna, meeting secretary; Bonita Reid, Corresponding Secretary; Kristofer Hunter, Principal Administrator; Ralph Pollow, two-year director; Robert Brueckner, three-year trustee; Jack Bridwell, chaplain; Shyenna Hildebrandt, steward; and Richard Jufer, Sergeant-at-Arms.
The exonerated officers for the year are: Randy Roeseler, President; John Schmitt, vice-president; Stephen Schmitt, treasurer; Susan Stegner, secretary; Robert Smith III, one-year trustee; Robert Smith Jr., two-year director; Dan Szumla, three-year director; John Lobczowski Sr., Sergeant-at-Arms; Wayne Jagow, Senior Chaplain; Daniel Szumla, historian; and Kevin Hunter, Steward.