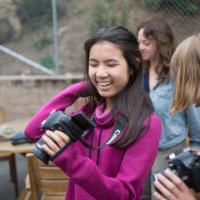 Girls Rock evaluates its programs to better serve our youth | Local News
Every young person deserves opportunities to develop skills they can use to pursue their dreams, but how do we know we are delivering the program that meets the needs of those served?
At Girls Rock Santa Barbara (GRSB), they work to ensure that there are not only access to opportunities to help gender-specific girls and youth, but that their programs are enhanced through the implementation of a sustainable evaluation process.
GRSB, founded in 2012, has a mission to empower girls, women, and gender-broad people, from third grade through college, through music education, creative arts, community, and development. positive mentoring. Their programs are designed to help young people gain experience from female role models who are professionals in their field.
Over the past two years, Girls Rock has developed its evaluation process and program model to collect and analyze results, and use what they learn to strengthen their existing programming.
Development of a program evaluation model
With support from the Santa Barbara Foundation's Small Capacity Business Grant Program, GRSB was able to hire Lisa Bass, Social Sector Assessment and Planning Consultant/Learning Partner. Bass joined the team to be a thought partner on the development of a program evaluation model rooted in creative youth development. His efforts would help the organization understand and use all the data it was collecting.
"We've had a lot of qualitative evidence and stories from our families and community members over the years," said Jen Baron, Executive Director of Girls Rock Santa Barbara. "As an organization, we wanted to be able to look at the quantitative data and understand how we can take an honest look at what we're doing for the community, assess where we are at, and also develop a plan for where we want to go. We knew the work we were doing with our youth was very important, and building the program model with Lisa, our teen board, our adult board, and various stakeholders helped us see the sauce secret that makes GRSB so special.
The organization's main summer program is Amplify, a summer camp in the Ojai Mountains. The summer camp environment allows young people to explore creative interests such as guitar, bass, drums, photography, journalism and more.
Campers also have the option of choosing electives ranging from songwriting to hiking to body positivity workshops; each taught through a lens of feminism, art, and social justice.
Depending on the age of the camper, day or overnight camping trips are scheduled accordingly. At the end of the two-week program, campers produce a final creative project, whether it's a song, photo project, video or article.
Other programs offered by Girls Rock are GRL Mag, a youth-run online magazine, and Syryn Records, a youth-run record label and internship program that provides teens and young adults with an entry point. in the music industry. GRL Mag and Syryn Records both operate year-round; interns and young people from all over the world create the content and gain real-life experience.
As has happened to many of our nonprofits, COVID-19 has put a damper on operations, which has adversely affected the evaluation process.
"When COVID hit, we knew we couldn't run Amplify. We knew we had to pivot our programming to find a way to keep our youth connected to the mission as much as possible," Baron said. "We were able to reallocate Amplify funds to grow our Syryn Records and GRL MAG internships We called it the Summer of Love internship and involved over 60 young people from around the world, all of whom received a $500 stipend at the end of the seven weeks With over 100 guest female mentors from across the music industry and with positive ratings in the 98% range, we knew we had created something truly meaningful for our children.
During this time, Bass and his team spent time training GRSB staff on the program model and how the organization can use it to be better mentors for young people. Bass and his team have also taught staff how to administer assessments and now train team members to read and compile data so assessment is ongoing and sustainable.
"The knowledge that I and my staff and team have gained from learning how to evaluate surveys and a way of thinking about the questions themselves, and how the data is interpreted and used have been enormous. I feel like I've grown so much with my new skills," Baron noted. "We are so grateful to both the SB Foundation and Lisa Bass for the absolute leaps Girls Rock has seen since doing this work together!"