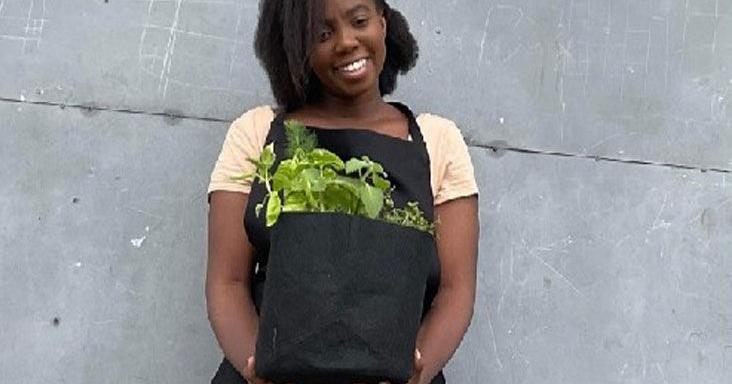 Growing Food in Small Spaces | Local company
DASIA Edwards may be small in stature, but her passion for growing her own food is larger than life. So much so that this farmer won last October the agriculture prize from the Ministry of Youth and National Service in the category (18-35 years).
From a young age, Edwards, a mother of two, has always had a passion for greenery and planting. Her affinity with nature continued to blossom over time and inspired her to create her grow box and vertical garden, named after her youngest son, Jelani Ubi.
She said, "I've always been surrounded by gardening and people growing food. My grandfather was a gardener, so I spent most of my youth growing up on six acres of land.
Edwards enjoyed the open space provided by his grandfather's land and, as a bonus, had extra room to move around as his two uncles had plots of land nearby.
She said: "Watching my grandfather grow food to feed our family helped me appreciate his sacrifice and dedication to making sure we had healthy meals. In 2019, I was part of the WHY Farm Agripreneur Mastermind program. Through the program, I met other farmers who did not have access to large plots of land. They cultivated using techniques such as hydroponics, aquaponics and vertical cultivation, etc. It inspired me to farm on the two plots I had.
Her planting efforts proved successful, and Edwards quickly realized that she didn't need acres of land to grow her food.
"As a mother, you want to give your children the healthiest option when it comes to nutrition. I now have the skill to grow food. It's wonderful to know where your food comes from, what it contains, and to know that it is much healthier for me, my sons and my family," she said.
Originally from Matura, Edwards is also a published writer, photographer and poet. She is also the owner of Jafari Multimedia, a communications company named after her eldest son. Additionally, she is the founder and director of the Living Environment Arts Festival (LEAF).
She said: "LEAF promotes an eco-friendly lifestyle, encouraging sustainable living practices. LEAF connects food to the environment, people to the environment, and customers to environmentally friendly products for everyday life. Our event was a physical platform that provided access to eco-friendly products made primarily by artisans in rural areas of the country. Our workshops are the educational factor that teaches people how to make these products. It also shows them how to live sustainably.
Edwards aims to teach young and old how to grow food in small spaces.
She said that since the pandemic, people are more interested in home gardening. As a busy mom and entrepreneur, Edwards was inspired to create garden kits that bring your meal straight from the garden to the table.
She explained how the genesis of the garden kits came about.
"This pandemic is pushing you to be creative in the kitchen. I had plants outside and looked at them one day thinking; what dish could I prepare. I realized that I could actually make a meal using some of the ingredients. I thought it might make life easier for other moms and anyone in general. One can literally grow breakfast, lunch and dinner ingredients right outside one's doorstep; how cool, isn't it! »
Prospective customers can choose from LEAF's wide selection of gardening kits which includes Breakfast Salad, Vegetables, Herbs and Seasonings, Pizza Topping, Junior Growers and Cocktail Garden, to name a few. to name a few.
Edwards said: "All gardening kits come with soil. The plants are in coco peat pots. We also include fertilizer compost and a grow bag. It is packed in a box and delivered to your doorstep or to collect points.
The agripreneur said that although a lot has changed in farming, from techniques to technology, it is still a rewarding profession.
"It's been a little over two years since I started my garden. I grew up watching my grandfather spend hours on the farm. He left early in the morning and returned home in the evening. It was hard, backbreaking work in the hot sun. I remember we had a tractor dug dam in the middle of our 6 acre garden that Grandpa used to water the plants. Now you can water your plants with just the press of a button, or if you set up a timer, you don't have to be there at all. Imagine vertical farming allowing you to grow crops in a much smaller space while producing high food yields. Technology has made farming accessible and so much easier that even a five-year-old can have a garden," Edwards said.
"Garden kits cost between $120 and $750. The Junior Grower ranges from $50 to $75. Subscription gardens start at $350. Subscription gardens are natural plants and fertilizers delivered to you after harvest when your garden needs restocking.We also include a free grow guide to help you with your gardening needs.Any space that can fit a grow bag or grow box can help you get started. you have a small porch or a small window sill, we are here to help you grow your food in small spaces. We have grow boxes specially designed for narrow window sills," she said. declared.
"I'm doing all this to bequeath to my sons a generational richness as well as a sustainable environment," she added.
Mum Matura enjoys reaping the nutritional and aesthetic benefits of her garden.
For more information, you can check out LEAF on Facebook or Instagram @leafest.