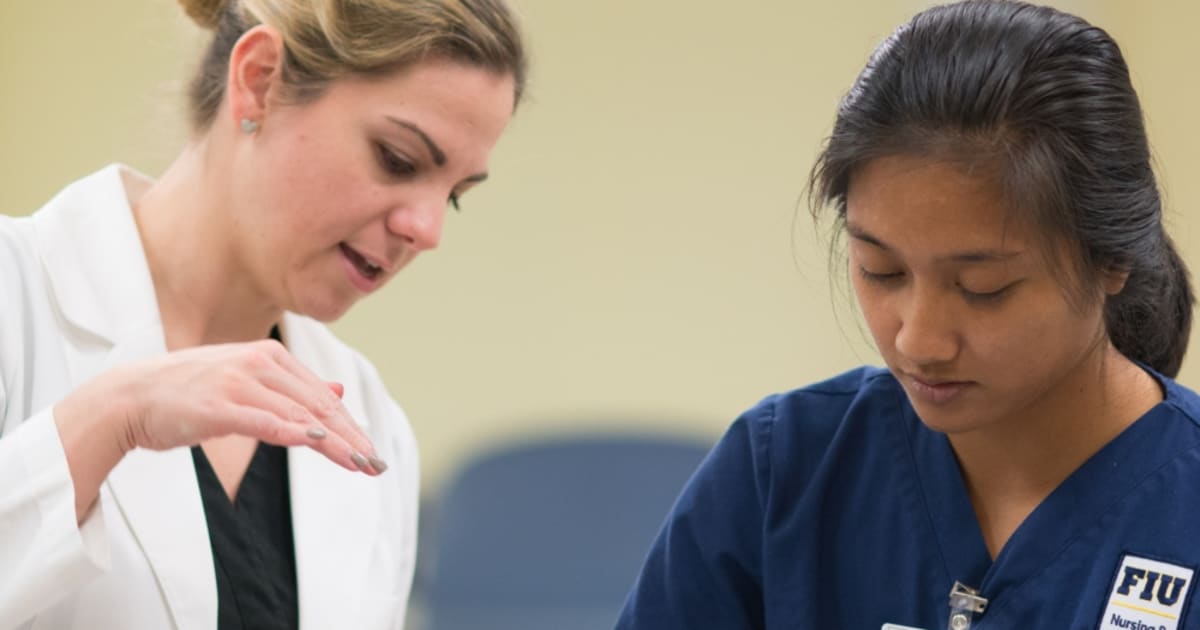 HCA Florida Healthcare and FIU Announce Partnership and Plan to Address National Nursing Shortage with More Educators | FIU News
By Mary Sudasassi
Florida is projected to experience a shortage of nearly 60,000 nurses by 2035. Population growth, retirement, and the pandemic are all playing a role in the growing demand for additional nurses. In addition, the country is also facing a shortage of qualified nurse educators to train the next generation of nurses. HCA Florida Healthcare and FIU's Nicole Wertheim College of Nursing & Health Sciences are partnering to develop the critical pipeline of nurse educators needed to safeguard the future of the nursing workforce.
According to the American Association of Colleges of Nursing, in 2019, American nursing schools turned away more than 80,000 qualified bachelors and graduate nursing applicants due to an insufficient number of faculty to teach them.
HCA Healthcare is donating $1.5 million to help increase recruitment for CRF's nurse educator programs and increase the number of registered nurses qualified to teach in nursing programs.
"HCA Healthcare and FIU have a long-standing partnership," said Charles Gressle, President of HCA Healthcare East Florida Division. "I am pleased that this donation will allow them to expand their curriculum and provide scholarships to those who answer the call to help prepare more Florida nurses; they are the backbone of our hospitals, and our communities and patients benefit from their strength and resilience.
HCA Healthcare and FIU Nursing are taking a proactive approach to this issue that plagues hospitals and healthcare systems nationwide.
"The sobering fact is that without enough nurse educators today, there will be fewer nurses tomorrow. HCA Healthcare shares our goal and has taken the lead in developing a strong network of nursing faculty through CRF," said Ora L. Strickland, Dean of the Nicole Wertheim College of Nursing & Health Sciences. "From our collaboration to launch the first professional retraining program for foreign-trained doctors in the country twenty years ago, to this latest initiative to boost enrollment in our nurse educator programs, FIU Nursing is grateful to HCA Healthcare for their continued support as we develop innovative solutions that address critical challenges in the healthcare industry.
CRF's nurse educator programs are set to expand recruitment this fall when the accelerated RN-BSN-MSN nurse educator track will be introduced alongside existing master's and postgraduate certificate programs.
HCA Healthcare's donation will help fund scholarships to attract eligible students to all programs and support the addition of full-time and adjunct faculty positions with FIU Nursing. CRF will recruit from the pool of culturally diverse nurses in South Florida currently working to prepare them as master's-level nurse educators. Ultimately, they will be qualified to serve as faculty and preceptors for nursing programs at community colleges, baccalaureate and higher education institutions, and clinical sites throughout Florida.
The partnership is part of HCA Healthcare's three-year, $10 million commitment to Historically Black Colleges and Universities (HBCUs) and Hispanic-Serving Institutions (HSIs) to advance diversity in healthcare. CRF is a federally designated Hispanic and minority-serving institution with a 61% Hispanic student body.