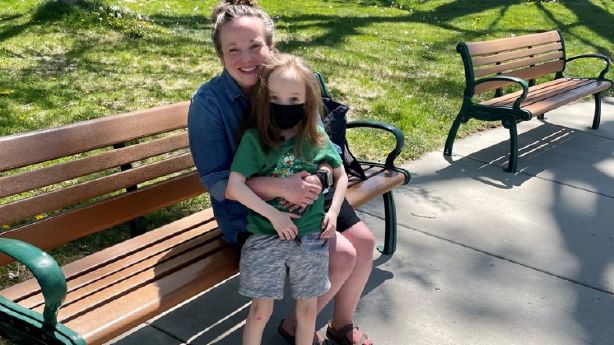 Innovative training in Utah teaches clinicians how to prevent domestic violence
SALT LAKE CITY – It could be your mother, sister or friend: 1 in 3 women have experienced domestic violence in their lifetime.
A new program has been designed in Utah to help healthcare professionals recognize the signs of domestic violence, in order to protect mothers and their children.
Ashley Weitz is hoping for a healthier life for her 7-year-old son, Ezra, than the one she had growing up. "Sometimes violent, sometimes angry, sometimes very loud," said Weitz, who lives in Salt Lake City.
Weitz said his parents were in an abusive relationship. It affected her physically, mentally and emotionally. "(It) has such an impact on the little ones watching," she said.
Emilie Johnson and Linda Sossenheimer, along with the University of Utah Health Injury and Injury Prevention Program, train clinicians to prevent intimate partner violence. It starts with building trust. "To create a therapeutic relationship with the patient, even if it's a very short period if you are with him for three or five minutes, what is it like? Said Sossenheimer, RN, clinical education outreach nurse at the University of Utah Health.
Rather than classic screening questions, they encourage open ended questions that are less threatening. "Tell me a bit about your home life. Like, 'Are you married? Or what's your situation? '"Sossenheimer explained.
The program is designed to combat cultural norms that prevent people from seeking help. "Maybe spreading your dirty secrets is difficult."
They encourage clinicians to recognize risk factors in patients, such as childhood trauma, and to promote protective factors for women. They stress the need to involve men and students in the conversation.
Johnson, RN, injury and awareness coordinator at the University of Utah Health, said, "We should be talking about health versus unhealthy in high school."
Through the program, they have trained 200 clinicians and hope to train thousands more in the years to come. "You are saving yourself and the lives of your children," Johnson said.
Weitz said a program like this could have saved her from a life of pain. "It can help shape healthy relationships for the young people in our lives and how to meet their needs," she said. If she could talk to the scared little girl she once was, she would offer hope for better things to come. "I wish I could go back and tell her all about this beautiful baby," Weitz said.
The program is funded by a grant from the Utah Department of Health.
Resources on domestic violence
You can find help for people in abusive relationships by contacting:
×
Related stories
More stories that might interest you