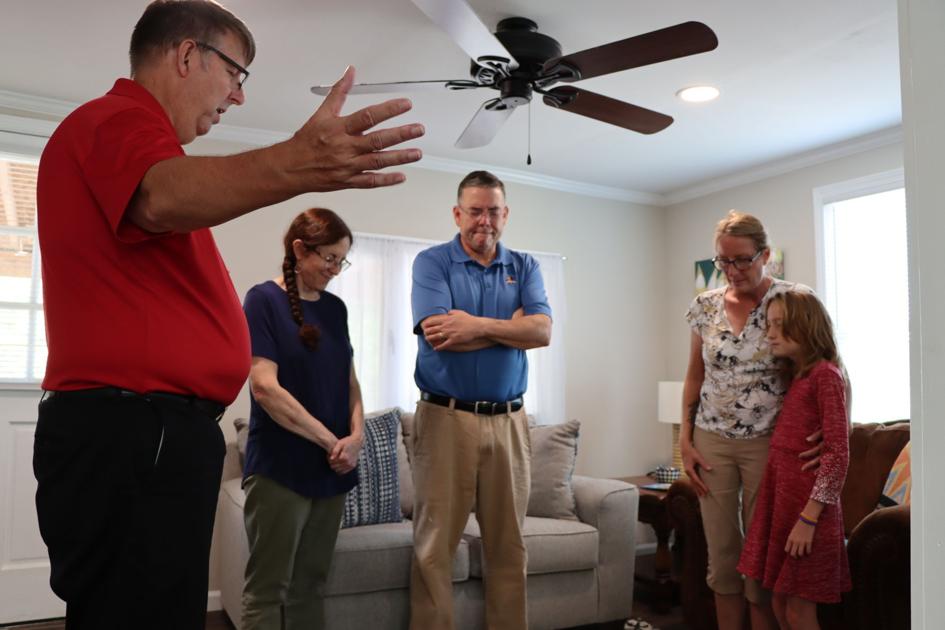 "Magnificent": The Ward family move into their reconstructed house 3 months after the tornado | New
It was almost unbelievable, but more than three months after Christy Ward and her daughter Pressley saw a tornado ravage their family's home, they were moving into a new one.
Christy remembered the afternoon of May 3 – she had just picked up Pressley from school and stopped by the house before going to pick up her other daughter, Nevaeh. She parked the car in the driveway and the afternoon thunderstorm turned into a frenzy. Tree branches collapsed as what would later be defined as an EF-2 tornado forced its way through their yard, destroying their trailer shelter.
In the days that followed, family and neighbors came to help clean up the debris. The Wards began to stay with their families as over the weeks the volunteers who came together to help pick up the pieces decided to build something new in the wake of the storm.
On Saturday, Christy and Pressley sat down in their new home – the product of more than three months of collaboration and generosity from volunteers, ministries, local businesses and countless people affected by the precarious situation of the Wards.
Christy hadn't seen the house for about two months before Saturday.
"That's when he was still emptied. There were no walls or anything, and he asked me not to come back until the big reveal," he said. she declared. "It's beautiful, really."
There to welcome his home was the self-made general contractor, State Representative John McCravy. Although not an entrepreneur, Greenwood's attorney said when he heard about the Wards plight, that he had to step in and try to coordinate the desire of so many to give of their time, money and resources for this project.
The result? A two bedroom home with a brand new bathroom, new appliances, a breakfast bar in the kitchen, a paved patio with a fireplace in the back, new wiring and plumbing, new floors and a new roof. Materials and labor were almost entirely donated, and McCravy paid for other services using donations from people in Greenwood and beyond. Strangers turned out to provide materials and funds as best they could, all in the service of returning wards home.
"Imagine if someone had never seen this house before and you showed them before and after photos," Pressley, 11, said on Saturday. "They wouldn't believe it."
Christy said she was thrilled to watch Pressley run around the house, excitedly showing Dana McCravy her bed and rushing wide-eyed between different features that impressed her.
"It's been a long road, but it's just …"
"Beautiful," Pressley interjected.
"It was a dream. It's really overwhelming," concluded Christy.
Pastor Gray Stallworth of Main Street United Methodist Church led the family in prayer, blessing the new home and all who enter it. He recalled the day spent hanging plasterboard in the house. Only one or two people were available to work that day, but a call to Jamar Crawford got a group of high school athletes ready to lend their strength to the project.
It was the story of the whole reconstruction. Time and time again, when materials and funds ran out, people stepped forward to give what they could. Neighbor Tina Escalona began to coordinate the efforts of the volunteers and keep the growing group of volunteers informed of every step of the project and every scheduled work day.
"I'm a little moved to see that this is all over," said McCravy. "I'm just amazed at what the Lord has done with His people. We hear so many negative things in our culture right now. This kind of thing brings us together."
For McCravy, this project was emblematic of what his faith calls people to do: serve when called upon.
Meanwhile, the ever-energetic Pressley was fascinated everywhere she looked. She could see her reflection in the shower, thought the bird on the outdoor cushions was adorable, loved the sliding bathroom door and the plush monkey on her bed.
When she walked through the door for the first time, she was shocked.
"It's not my house, that's what I thought. It's not the same," she said. "I think my sister is going to like this too.… Do you know how long it probably took? It's been, like, three months, maybe four. That's a lot of progress."
She gestured to the ground. There had been a hole there the night of the May storm. The doors were blown out, her bed frame was destroyed. The tornado had turned their lives upside down, but now they were home.
Christy read aloud a letter she had prepared in advance. She said she didn't know where to start to thank everyone involved, but appreciates the efforts of everyone who has helped bring their family home.
"I have no idea where we would be right now," she said, stopping as she was overcome with emotion, "if your families hadn't stepped in and hadn't fixed my grandparents' house for us.
"We've been homeless since May 3rd, and I can't tell you how good it is to be home. Our new home is so beautiful, and we will always love this home that you all made for. we."
Contact editor-in-chief Damian Dominguez at 864-634-7548 or follow us on Twitter @IJDDOMINGUEZ.