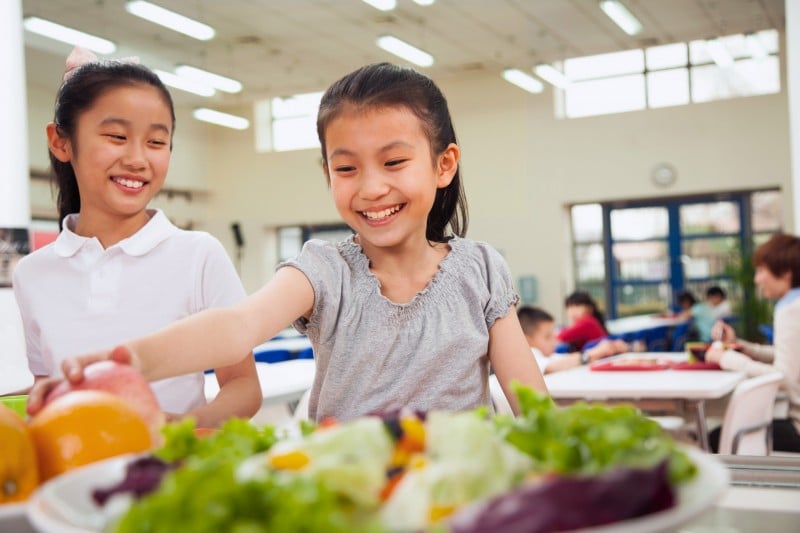 Mix it up, wrap it up, wrap it up – Lunch is in the bag
A A 20 minute lunch is the norm for most children in school.
But once you include the time it takes to line up, grab a cafeteria tray, and catch up with a friend, the time a child has to eat can easily drop to 10 or 15 minutes.
For some children, this is enough time to quickly eat a sandwich, chips, fruit and chocolate milk. But for slow pokes, talkers, and picky eaters, that's not enough.
And while many schools strive to create space and time for children to eat their meals in a healthy way without running out of time, it is a fact that children need to get in and out of the cafeteria in the classroom. within a few hours to get everyone in school was eating in a decent amount of time.
So, it doesn't matter if your child has 10 minutes or 30 minutes to eat, it's a good idea to remind them that this is the time to pack their bags on nutrition, and nourish and energize their body so that they 'he's ready for the rest of the day.
If you're making lunch for your kid, we've got some recipes and ideas to help you maximize healthy eating in a hurry. We also have some tips for kids who eat in the cafeteria, so check them out and talk to your kids before they go back to school this year.
Eat better in the cafeteria
Consult the weekly or monthly cafeteria menu together. Highlight some of the healthier options and browse through the "fun" foods as well. Talk about how the cinnamon roll would be a delicious treat after eating the vegetable soup. Viewing the menu ahead of time can give kids an idea of ​​what to expect.
Don't forget about fruits and vegetables. Remind children to include apple slices, carrot sticks, or one of their favorites next to their corndog or pizza.
Talk about brain foods. Explain to your children that eating a balanced cafeteria meal can actually help them do better in school. Eating a meal with fruits, vegetables, protein, dairy, and grains will give them the brain power to fly all day long.
Eat healthy foods first. Lunch teachers can remind kids of this, but it's also great to hear it from moms and dads. Eat your healthy foods, like spaghetti and green beans or the turkey sandwich and yogurt, before you eat your chocolate cake.
Pack a lunch box with a nutritional punch
Make a list. Write down the healthy foods that you have noticed that your children will eat. Hummus and pita, yogurt parfait, black beans and rice. Let them help you add to your list. When you bang your head against the wall trying to think of foods that your kids really like, come back to this list to jog your memory.
Mix it up. Smoothies are a great way to pack nutrition into a lunchbox. A spinach, chia seed, strawberry, and banana smoothie tastes sweet, and it's something kids can drink quickly when it's near recess bell time.
Load it up in a bar. Make your own granola bars or oatmeal squares loaded with whole grains, nuts and fruit. Cut into squares and put in the lunchbox for a week of healthy treats.
Don't forget your thermos. A thermos isn't just good for soup. Use it for mashed potatoes, fried rice, pasta, and other foods that can be eaten quickly.
---
Take some of the components of a club sandwich and use them in a wrap.
Turkey bacon wrap
For 2 people
2 wraps or tortillas (10 inches)
2 tablespoons of honey mustard
4 slices of honey roasted turkey breast
2 slices of cooked bacon
4 avocado slices
2 slices of cheddar
2 large leaves of romaine lettuce
Place wraps side by side. Distribute each ingredient evenly, leaving a quarter of the film empty for easier rolling. Roll each wrap towards the bare part. Cut each wrap in half.
---
Don't like broccoli? No problem! Top the mashed potatoes with your child's favorite vegetables, turkey bacon or cheese.
Bowl of Mashed Potatoes with Broccoli and Cheese
For 2 people
3 cups of leftover mashed potatoes
1 cup of broccoli florets, steamed until tender
1/4 cup grated sharp cheddar cheese
Divide the mashed potatoes evenly between two thermos. Top with hot steamed broccoli and grated cheese. Close the lid tightly.
---
Kids love these nutrition bars which are much bigger than the basic kids granola bar.
Oatmeal squares
Makes 16 bars
2 cups old-fashioned oatmeal
1/4 cup flour
½ cup granulated sugar
1 ½ teaspoons of baking powder
½ teaspoon of salt
½ teaspoon of cinnamon
2 eggs
½ cup of almond milk
¼ cup of applesauce
1 teaspoon of vanilla extract
¼ cup walnuts, finely chopped
¼ cup dried cranberries or raisins
Preheat the oven to 350 degrees. Line an 8-inch square pan with parchment paper that protrudes from the edge.
In a medium bowl, combine the oatmeal, flour, sugar, baking powder, salt and cinnamon.
In a large bowl, combine the eggs, milk, applesauce and vanilla extract. Transfer the dry ingredients to the wet ingredients and set aside until the flavors combine, about 20 minutes.
Stir in nuts and cranberries and spread the combined mixture into the prepared square pan.
Bake in preheated oven until edges are golden, about 30-35 minutes. Let cool on a wire rack for 5 minutes before slicing.
---
Smoothies can be made in countless ways – with yogurt, milk, fruit juices, and fresh or frozen fruits and vegetables. Here's a basic recipe that works well in a lunchbox. Prepare it in the morning and place it in a very cold container to keep it cool until lunchtime. This one works well even in a toddler's lunch box.
Simple smoothie
For 1 person
1 cup of milk
1 small frozen banana
1/2 cup frozen fruit (blueberries, strawberries, mango, peaches)
1/2 cup vegetables (such as kale, spinach, roasted sweet potato or raw squash)
Supplements: 1 teaspoon of chia seeds, 2 teaspoons of honey
Add all the ingredients to the blender and blend until smooth. Scrape down sides and add more liquid if necessary.
---