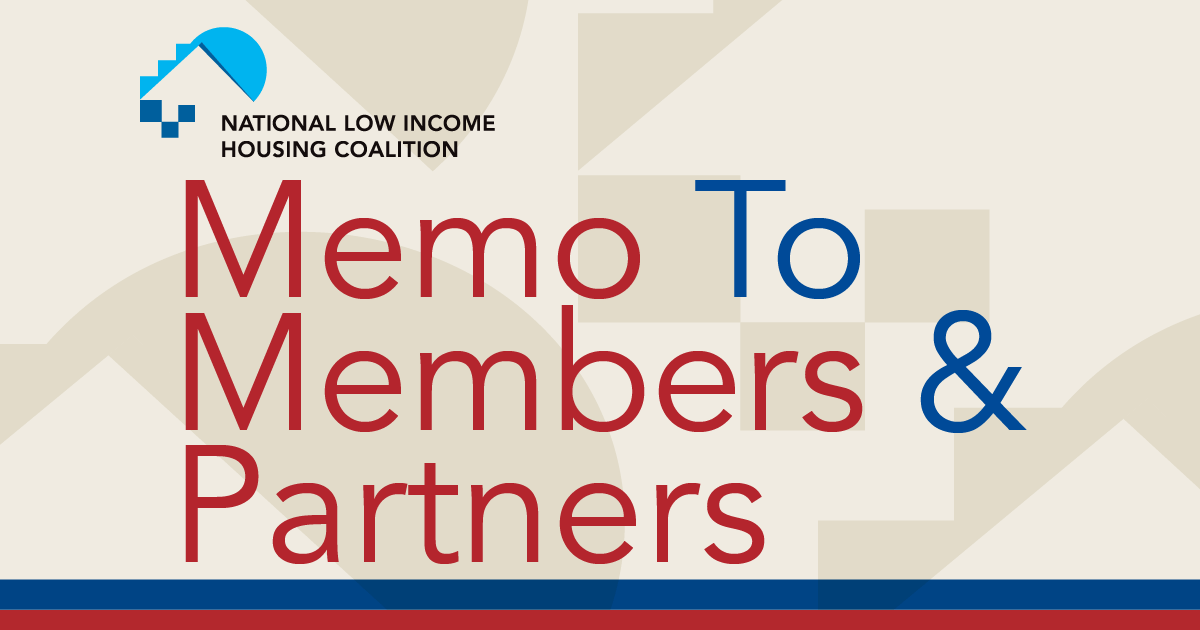 NLIHC members, partners and allies brace for appropriations push after August recess
The United States House of Representatives and the United States Senate remain out of session for the August recess, with the Senate due to return on September 6 and the House returning the following week on September 13. After he returns, Congress will have until Oct. 1 to pass a 2023 spending bill of the year (FY), pass a continuing resolution (CR) — which extends current levels of federal funding for a short period — or risk a government shutdown.
While a shutdown is unlikely, House and Senate appropriations officials still have a long way to go before reaching an agreement on FY23 spending. Both houses have released bills spending, and the House Transportation, Housing, and Urban Development (THUD) bill would provide about $3 billion more for HUD's vital affordable housing, homelessness, and community development programs than the Senate proposal. Due to the equal division in the Senate, Appropriation officials will need to reach bipartisan, bicameral agreement on funding levels before they can move forward with a FY23 spending plan. House and Senate bills were drafted by Democrats with little or no Republican input, raising concerns that a final spending package will offer far less funding than House or Senate bills.
The FY23 spending bill likely represents the last opportunity this year for Congress to make strong investments in affordable housing and homelessness programs. After missing the opportunity to provide targeted investments in affordable housing through reconciliation (see Note8/22), Congress cannot pass up the opportunity to provide the significant funding needed to ensure the nation moves toward safe, affordable, and accessible housing for all.
The NLIHC and our Campaign for Housing and Community Development Funding (CHCDF) partners lead our annual 302(b) letter to demand that Congress provide the highest possible level of funding for affordable housing, the homeless shelter and community development resources in fiscal year 2023. Supporters should reach out to their members of Congress and urge them to support significant funding for the NLIHC's top priorities:
$32.13 billion for the Tenant Based Rental Assistance Program (TBRA) to renew all existing contracts and extend housing vouchers to an additional 200,000 households.
$5.125 billion for the Public Housing Investment Fund to preserve public housing and $5.06 billion for the Public Housing Operating Fund.
$3.6 billion for HUD's Homeless Assistance Grant Program to meet the needs of homeless people.
$100 million for legal assistance to prevent evictions.
$300 million for the competitive Tribal Housing Program, targeted to tribes with the greatest needs.
In addition, Congress is expected to pass a set of tax prorogations before the end of the year. Many tax provisions are only authorized for a set number of years, requiring Congress to periodically reassess and decide whether or not to extend expiring tax provisions. With a number of tax provisions set to be extended at the end of the year, the tax extensions package represents an opportunity to make the necessary legislative changes to the low-income housing tax credit program (LIHTC) to better serve lower income households. .
Senators Maria Cantwell (D-WA), Todd Young (R-IN), Ron Wyden (D-OR) and former Senator John Isakson (R-GA), along with Representatives Susan DelBene (D-WA), Don Beyer (D-VA), and former Reps. Jackie Walorski (R-IN) and Kenny Marchant (R-TX) sponsored the 2019 "Affordable Housing Credit Enhancement Act" (S.1703/HR3077 ). The bill proposes several key reforms to the LIHTC program that would more deeply target resources to serve lower-income households, including several of the NLIHC's priority reforms:
Extend LIHTC's 'basic boost' to 50% to encourage the development of affordable housing for the lowest income households.
Set up a 10% reserve for the development of housing for very low-income households.
Extend the "grassroots boost" to rural and tribal areas.
Strengthen the right of first refusal for nonprofits to purchase affordable properties.
In addition to pushing Congress for strong funding for affordable housing and homelessness programs in FY23, advocates should continue to reach out to their members of Congress to urge them to include these provisions in any tax extension package in the future. Use the NLIHC August Recess Advocacy Toolkit to help create your message to Congress!