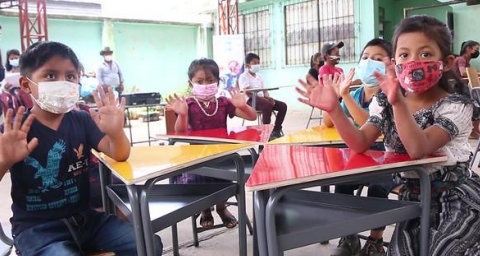 Paso Por Paso helping Mayan students one office at a time
A local group ensured that 56 new desks and tables were delivered to students so they could learn safely and follow social distancing protocols
PRESS RELEASE
PASO POR PASO
*************************
Paso Por Paso, a locally based charity, has been operating for over 15 years, helping the Mayan people of Guatemala's Lake Atitlan region.
We have funded student sponsorship programs from elementary school to college, microcredit programs for indigenous Mayan women, and many upgrades over the years at a local school.
Our most recent effort was the Tierra Linda School Office Project. During the last visit of Paso Por Paso members to Guatemala in February 2020, teachers in Tierra Linda expressed concern about the state of the offices.
Many desks were broken beyond repair and some were unsafe for students to sit with rough, broken edges and missing parts. The new offices were built by a local non-governmental organization, rather than buying them outside of Guatemala.
Fifty-six desks and tables were delivered to the local school at the end of April this year. This was enough to equip four classrooms to operate under their social distancing guidelines and allow more students to attend classes. The school principal and the students couldn't have been more excited!
The global pandemic has caused severe hardship and economic disruption around the world. This is especially true for the impoverished indigenous populations of Guatemala.
The severe drought that has hit the mountainous region of the country where most of the Mayans live has made matters worse. Malnutrition rates are among the highest in the world.
Over 60% of children in the region suffer from a chronic lack of nutrition. The most pressing question for many families is "how to feed my children today".
Health care is inadequate and not easily accessible to all. The poor infrastructure in the country makes matters worse. Guatemala has one of the lowest COVID vaccination rates in Central America.
The pandemic will eventually end. We can see the light at the end of the tunnel here. In other parts of the world, things are not so rosy.
"Give a person a fish and you feed them for a day, teach a person to fish and you feed them all their life" is the approach of most organizations providing assistance in developing countries. Good nutrition, good education and a local entrepreneurial spirit seem to be the key to meaningful change. Paso Por Paso continues to be committed to participating in this work.
Due to the pandemic, Paso Por Paso was unable to organize many of our regular fundraising events. Hopefully that will change in the coming months. Thanks to the generosity of our donors, we were able to continue our existing programs and support some new initiatives.
You can find more information about Paso Por Paso on our website at http://www.pasoporpaso.ca
*************************