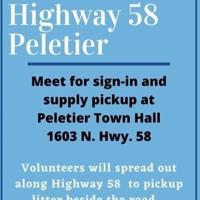 Peletier seeks a post office for the west of Carteret; plans trash pickup along Highway 58 with Carteret Big Sweep | News
PELLETIER — Long before it was a town, Peletier had a post office, but it closed in 1954, according to former city commissioner Alice Dunn.
The commissioners, when they met Monday night at City Hall off Highway 58, took the first step toward securing another one. At the request of Commissioner Tim Quinn, board members and Mayor Dale Sowers agreed to sign a letter to the U.S. Postal Service regional office in Greensboro, asking how to proceed.
"I contacted (US Representative) Greg Murphy's office," Mr. Quinn told commissioners at the meeting, "and he told me to contact Greensboro and ask them what the requirements are."
The general concept, he said, is to take a regional approach and get a post office that would also serve nearby towns of Cedar Point, Cape Carteret and possibly Bogue, as well as unincorporated communities. in nearby society, including Stella.
The nearest existing post offices are at Morehead City, Newport and Emerald Isle, and the latter, although closest to Peletier, is problematic as motorists have to battle extremely heavy summer traffic to get there . A new post office in the area would improve service and reduce delivery times, the commissioners said.
"Between Cape Carteret, Cedar Point and us, we probably have at least 8,000 addresses (commercial and residential)," Quinn said.
Commissioner Dan Taylor said he knew Cape Carteret had tried to get a post office, but had been unable to do so years ago.
"I think we can get one," Commissioner Steven Obery said.
"This is just the first step," added Mayor Sowers.
Mr. Quinn moved the motion to send the letter, seconded by Mr. Taylor, and it was carried unanimously.
Also during the meeting, the board:
· Listened to Mr. Overby announce that after receiving numerous complaints from residents about huge volumes of trash along Highway 58, he worked with Carteret Big Sweep to schedule a volunteer cleanup on Saturday, April 23. Big Sweep will provide cleaning supplies, he added.
"I will be there," Mr. Overby said. "Hopefully we can do it two or three times a year."
He encouraged other locals to join the effort.
The state Department of Transportation is responsible for cleaning up trash along state highways, but struggles to keep up with the damage that falls from uncovered trucks or is thrown out of windows by passing motorists. Highway 58 in Peletier is a major route connecting much of eastern North Carolina to Emerald Isle and the other beach towns of Bogue Banks.
Those who want to help should meet at City Hall at 9 a.m. on April 23.
Mr Overby said the efforts of volunteers are helping, but thinks little will change until litter is increasingly fined.
· Voted unanimously to let part-time code enforcement officer Kris Jensen, a lieutenant in the Carteret County Sheriff's Office, notify homeowners who have failed to comply with cleanup orders in recent months that the city will start accepting offers to hire contractors to clean up horrors and security hazards, then put a tax lien on properties to pay for them.
Mr Jensen has had some success, but told stewards on Monday he had hit a wall with some of the owners. The notice will tell owners they have an additional 60 days to comply with Mr. Jensen's orders.
"I think it might get some attention from their (owners)," Mayor Sowers said.
Jensen also noted that the sheriff's office is spending more time trying to enforce trash laws in the county, including Peletier.
· Heard Kevin Hunter, chief of the Western Carteret Fire and EMS Department, report that the emergency agency in February continued to see an increasing number of calls, a trend that has been ongoing for some time in the district.
It includes Peletier, Cape Carteret, Cedar Point, Bogue, and unincorporated county areas, such as the Stella community.
"The total number of calls for the district in February was 140 and normal over the month is around 110 to 125," Chief Hunter said. "It will be interesting to see the numbers in March. Things happen fast" in the fast-growing western part of Carteret County, he added.
Contact Brad Rich at 252-864-1532; email [email protected]; or follow on Twitter @brichccnt.