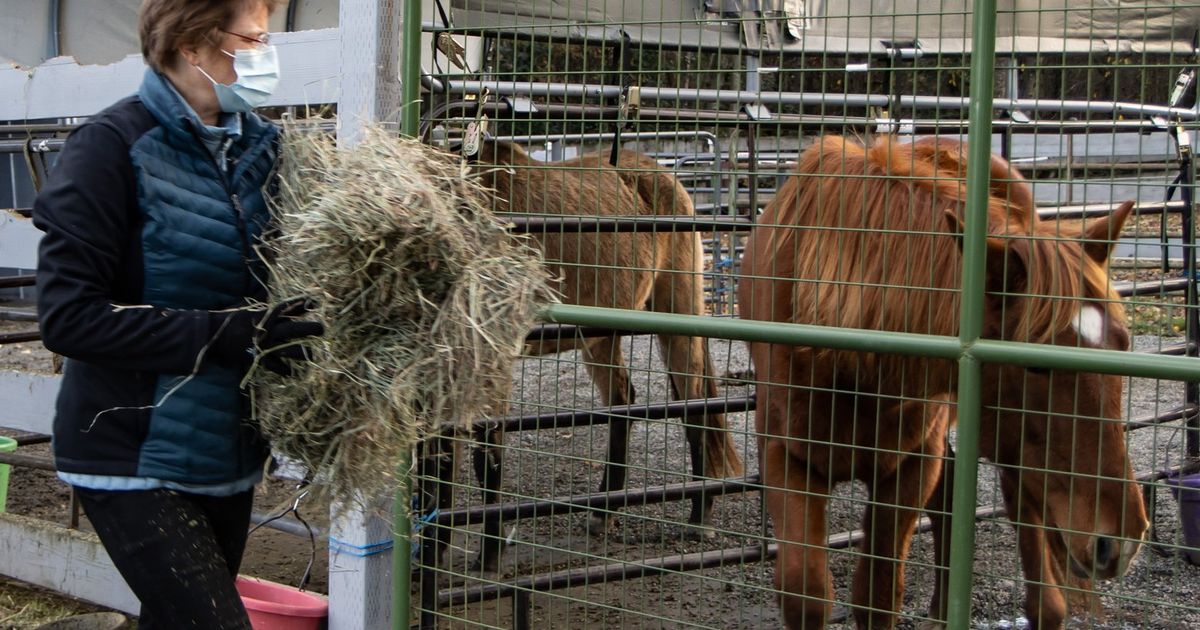 Save A Forgotten Equine volunteers help rehabilitate rescued horses – and build friendships between them
FEW THINGS ARE MORE ATTRACTIVE to us humans than to the creatures who need our help.
The 30 horses in the barns and paddocks of SAFE (Save A Forgotten Equine) require the usual assistance – yes, poop collection is involved. But having been saved from neglect, abuse, or owners who simply couldn't care for them, these critters need more: people who will come forward for them without asking for much in return. That kind of person is a good kind of human indeed.
I chat with Danielle Jaffy as she helps feed the horses on a cold late fall evening at SAFE Farm in Redmond. It's not far from the high-tech urban bustle, but this verdant, tree-lined valley feels like a different world.
"They care so much about all the horses. They really are hard workers, "Jaffy says of his fellow volunteers. "They even care about each other, as a community. It's just a great group of people.
The operation wouldn't work without many hours of work from people who reliably show up for their shifts, under all kinds of circumstances. "We have had a total global pandemic for the past two years and the horses still expected to be fed. They weren't friendly at all, "Bonnie Hammond, executive director of SAFE, told me with a chuckle.
Most volunteers sign up for one shift per week, although some do more. About half a dozen show up each morning and evening, plus a couple each night, to help with everything from paperwork to cleaning the stalls in the nicely tidy barn.
"I see a lot of friendships forming and a lot of people who are just happy to be here," Hammond said.
Some volunteers own horses; others have never been around them before but want "time on horseback". They are trained on the job, through workshops and by attending riding lessons that SAFE runs for local horse owners.
They start each shift with a meeting, where they hear what's going on with the horses – those who want to be petted, those who want to be left alone, those who have a special diet.
Ideally, these horses will get a second chance; the goal is to rehabilitate them and find new homes for them. SAFE is one of a handful of rescues around the state that are part of the "A Home for Every Horse" rescue and placement network, all of which rely heavily on volunteers.
"I'm here because I love what they're doing. It's not just about rescue. They want these horses to have life, "volunteer Anne Healey tells me as she efficiently collects manure in what looks like a giant dustpan.
The first step: Make animals comfortable with humans. SAFE's carefully crafted curriculum follows the principles of trust-based training using clear, gentle instructions. "We rehabilitate their bodies, but we also put a lot of effort into training and retraining," says Hammond.
Experienced volunteers join the small paid staff to handle and ride the horses.
All of this work "makes them feel more involved in the transformation that horses go through," says Hammond. "I want our volunteers to look at this horse and say to themselves, 'I made this happen.' "
Many horses find forever homes with carefully selected owners who will love and understand them; a few become permanent residents here. Either way, the people here are on their side. "When I get home I feel satisfied," Healey says. "I really feel needed here. "