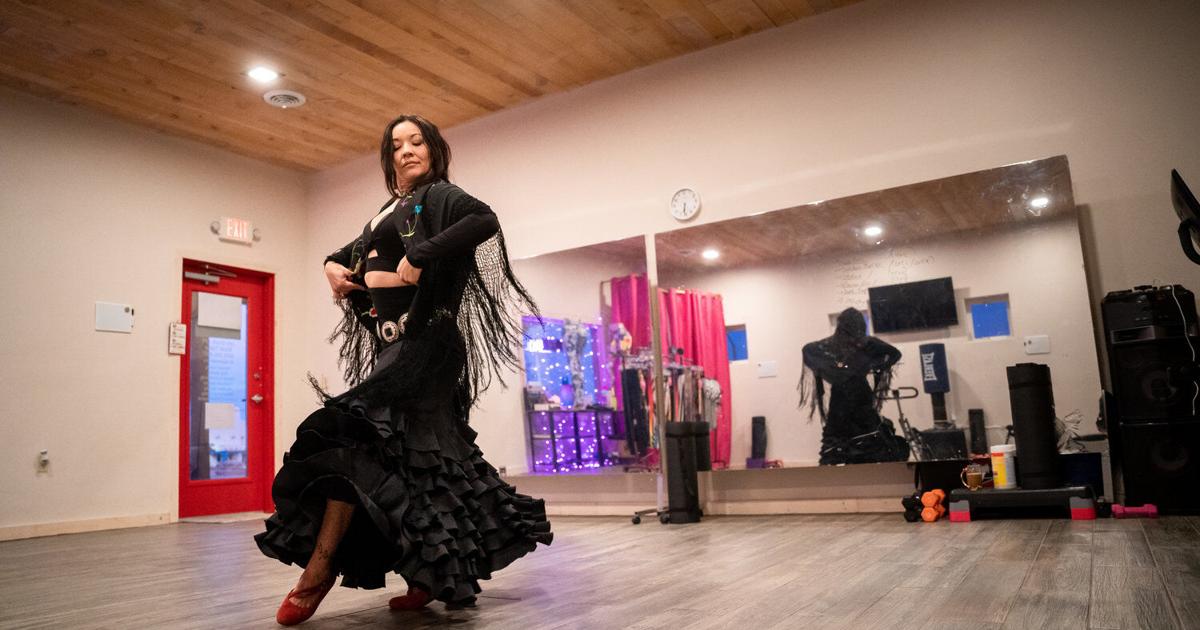 The Body Shop focuses on more than the physical | Business
Julia Struck starts her day earlier than most. The Taoseña wakes up before sunrise to meet enthusiastic followers for a morning "boot camp" training session at 5 a.m. five days a week.
She focused on her various physical training groups hosted by her fitness business, The Body Shop (located in their third location at 829 Paseo del Pueblo Sur), but also branched out into dancing. Now she hopes to give Taos youth the activity that got her through her toughest times for free.
Through the art of flamenco dancing and newly offered free flamenco classes on Saturdays, Struck hopes to invigorate the local community, reminding them of the roots that may have slipped away in past generations.
Struck is the first to acknowledge her own struggles and share how physical activity and dance helped make her the person she is today. "Like a lot of young kids in town, I felt like there wasn't much to do," she said of growing up in Taos.
"I struggled with my own addictions to drugs, alcohol and the party lifestyle," she admitted. That was until she attended her first flamenco class. "I've always loved dancing, and my best friend was actually taking [flamenco] class and she invited me to go.
The class was taught by longtime flamenco dancer Catalina Rio-Fernandez, who Struck says took her under her wing. "I remember thinking, 'What is this?' and I took my first class, and my second class, and I finally found something that turned me on more than having [high]."
She said dancing and physical activity gave her a place to belong; "a sense of community, a sense of brotherhood." It helped her deal with her struggles as an addict in a positive way, where she wasn't going to "hurt anyone or myself."
Through her work at The Body Shop, Struck hopes to provide the same opportunity for change that Rio-Fernandez gave her. "I'd like to foster space for growth, basically – whether it's healing growth, performance art growth, or maybe just finding space to grow in general ."
Struck officially added the free flamenco lessons to his schedule (set for Saturdays at 10 a.m.), but said they were still taking off and hoped more local people would show interest.
The classes aim to connect children in the community to local and traditional arts, she said, "And I think as a by-product, their parents will also be more involved in those things."
"My hope is just to have a place and a time where people can reconnect in the arts to themselves, to their family, to their lineage, and ultimately to the community," she said. "I think it's a place where kids maybe have a chance, like me, to show up to something that just might change the trajectory of their lives."
She said flamenco has long been ingrained in the culture of Taos, but "over the last 10 years maybe, slowly and steadily, it's become less and less of a community art that we can share together."
In part, Struck said it was because of flamenco's status as an art, "when at its roots, it's a dance of the gypsies. It was a dance that was performed in living rooms with families, and I would like to bring it back to that, when it came to community and family, music, passion and fire.
Due to its status as an art, Struck said flamenco remains out of reach for many young locals, which is why she hopes her class can help bring traditional dancing to those who may not have can't afford to pay for lessons.
In addition to focusing on dance, Struck hosts intense full-body workout classes Monday through Friday. When COVID started, she adapted quickly, immediately switching to online classes. While working as a fitness trainer throughout the pandemic, she realized that fitness and health had become "a whole different ball game", with mental health quickly becoming a big part of the equation.
"For the most part, I think people are just looking for ways to be healthier, physically and mentally," she said. "A lot of people are just looking for help, and someone to listen to, you know, or just a little direction."
So far, she has found a space to cultivate that sense of community helping. Struck said she currently has about half a dozen women who have lost loved ones recently, whether to "COVID, or suicide, or health-related reasons."
Peggy Romo has been going to The Body Shop since August 2021. After losing her husband just over three years ago, she needed time to work on herself. After seeing advertisements online, Romo decided to call Struck. "We met that night, and from then on I was loyal to my regiment," she said.
Romo attended the 5 a.m. "boot camp" classes three to four times a week, using his Peloton bike on days off. She said she had never exercised so much before in her life, but now she can't imagine stopping.
"One of the best decisions I've ever made in my life was to join [Struck's] club," she said. A particular highlight is the amount of new friendships she made there. She said she also considers Struck "not just my coach, but I think I've found a friend for life."
"I feel like she's probably the best coach in Taos right now," she added. Although Romo is not a dancer, she said she hoped to try one of Struck's dance classes in the future.
Sadie Acedo was also a customer of Struck's during the pandemic, starting a year ago "on a whim". Acedo said she stuck to the 5 a.m. class routine, but admitted it was not easy to adjust to it. "I have two kids and three dogs at home and a husband. It's actually kind of an adjustment for the whole family because I get up at 4:30 a.m. and come home and it's kinda rushed to get everyone out. Now she said it was like clockwork.
Adding a routine added value to Acedo's life, she said. "You just feel better overall. Not only do your clothes fit better, but it gives you a mental boost to start your day. She said she encourages other people, "especially mums", to try the classes.
"Julia is really accommodating to every person. Everyone has their own individual plan, and she's just been a really nice, kind person to work with. She can't stand shit either. It's a good combination," she said.
Struck said it was her passion to help others the same way she was helped by her community. "So many people in this town have supported me and I really want to be able to give back to the community and give the same kind of chance Catalina [Rio-Fernandez] gave me when I was young and struggling, had no direction and wasn't sure what I wanted.
She said working out helps build more than muscle. "It's such a confidence builder and a way to build a beautiful, strong exterior, inside and out – mind, body and heart."