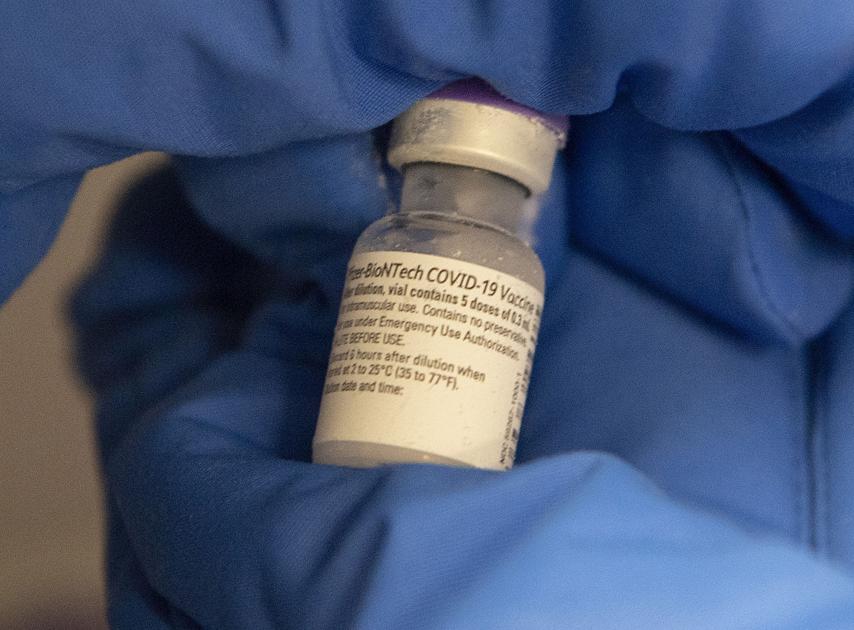 The Frederick County Health Department is about to administer boosters; epidemics in county schools, detention center | Hospitals and Doctors
Frederick County health officials are set to offer COVID-19 booster shots but are awaiting the green light from Governor Larry Hogan.
The development comes hours after a key Centers for Disease Control and Prevention committee recommended boosters for people with underlying illnesses, aged 65 and older or living in collective care facilities and who have been fully vaccinated with Pfizer-BioNTech vaccine (Comirnaty).
As of Thursday evening, however, the Frederick County Health Department had not received final approval. When the News-Post asked when Hogan would release new guidelines, a spokesperson for the Maryland Department of Health referred to a tweet from the governor on Thursday that highlighted the number of booster injections administered in the state at this time. day.
Once Hogan releases guidelines, doses may not be universally available. Pharmacies and private businesses may still need more time to adjust their policies and systems to accommodate the change before administering booster doses, county health spokesperson Rissah said. Watkins, in an email to the News-Post.
The committee's decision comes a day after the United States Food and Drug Administration amended its emergency use authorization for the Pfizer-BioNTech vaccine to allow certain groups to receive a booster. Eligible people, according to the administration's website, include people 65 and older, people with compromised immune systems, and people who work or spend time in high-risk environments – who were not included in the plan. recommendation of the CDC committee.
The FDA has yet to provide an update on when recalls will be authorized for those who have received the Moderna or Johnson & Johnson vaccines.
County health official Dr Barbara Brookmyer told a recent county health board meeting that manufacturers were working to create a more effective dose, although she expected if boosters were approved soon, they would be of the same formula as the third immunocompromised doses. people have received.
Third doses of the vaccine have been available since August for immunocompromised people and people aged 65 and over living in collective care facilities who have received the Pfizer or Moderna vaccine. In accordance with CDC guidelines, Frederick County has offered third doses to immunocompromised people at all of its immunization clinics since Aug. 13, Watkins said in an email.
At its recent meeting, the Board of Health – which includes Brookmyer, County Director Jan Gardner and the seven county council members – appeared to be taking action to issue a public service announcement highlighting the effectiveness of vaccines and encouraging people to wear masks. in groups and in indoor public spaces.
It's unclear when the board will release the announcement, Watkins said in an email.
Outbreaks in county schools, detention center
Vaccines and masks were also central themes during a press briefing held by Gardner on Thursday, in which she described the county institutions experiencing outbreaks amid the most recent wave of infections.
"Our biggest outbreak right now is in the detention center," Gardner said.
The Frederick County Adult Detention Center had 18 confirmed cases among inmates and 10 on staff as of Thursday, according to Todd Wivell, a spokesperson for the county sheriff's office, which oversees the detention center. The facility's most recent outbreak began on September 15, Wivell said in an email.
The most recent data from Frederick County Public Schools, meanwhile, showed 18 schools had an outbreak on Wednesday. The website defines an outbreak as at least two confirmed cases over a two-week period among people who are epidemiologically related but not family contacts.
Five of the county's nursing homes appeared on the state's COVID dashboard on Thursday, which included facilities that had reported at least one confirmed case on Wednesday. Installations are removed from the page when no new cases or pending tests are reported within a 14-day period.
Gardner continued to plead with unvaccinated county residents to get the vaccine and acknowledged those who had already done so.
"I want to thank everyone who has been vaccinated," Gardner said during the briefing. "Not only are you protecting your own health and that of your family, you are protecting our entire community. "
Of the 15 COVID patients who required intensive care last week, 6 were unvaccinated and one was partially vaccinated, according to a Facebook post from Frederick Health.
The most recent data from the county's COVID dashboard showed that as of Wednesday, the county had 31 people hospitalized with COVID, including six in intensive care.
"Don't let your guard down," Gardner said.
The county executive said she was concerned about the recent spike in COVID infections extending into the fall and winter flu season and crushing local hospitals. According to the COVID dashboard, the ICU at Frederick Health Hospital has a total of 19 beds.
Follow Jack Hogan on Twitter: @jckhogan