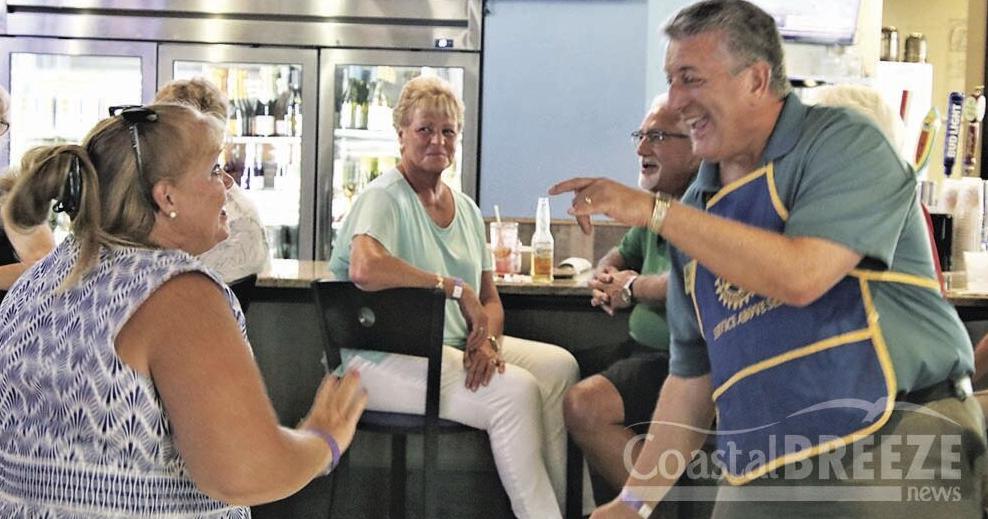 The Meals of Hope event needs volunteers | Clubs And Organizations
Once again, local restaurateurs Curt and Jacquie Koon of CJ's on the Bay opened their popular venue to host the fundraising event for Meals of Hope. Proceeds will go towards the purchase of food for the annual food packaging event.
"We are thrilled that the community continues to shine in supporting this spectacular event and it demonstrates our commitment to helping those in need," said event chair Bill "Captain Happy Hope" Morris as he mingled with CJ guests last Wednesday night.
Meals of Hope wrapping events have been held throughout Collier County for the past twelve years or so. The events bring together volunteers from the community who package meals to distribute to those in need. Marco Island hosts one of many successful Meals of Hope packing events, which aims to alleviate hunger in Collier County.
The Meals of Hope wrapping events on Marco Island began under the watchful eye of tireless Sunrise Rotarian Wayne Purvis. Purvis, who died in 2020, started the event on the island twelve years ago, enlisting volunteers from the Noontime Rotary Club and the Kiwanis Club.
At the same time, Purvis worked tirelessly to lead the charge to involve many other groups and organizations. He handed the event over to Sunrise Rotarian Neil Snyder, another tireless spirit, who soon became known as "Captain Hope." In 2016, the reins were handed to local lawyer Bill Morris, who enthusiastically continued the successes of his two predecessors.
On November 19, 2022, the packing event will take place in the gymnasium at Marco Island Charter Middle School. For the past two years, due to COVID, the event has been held outdoors. This year he returns to the more hospitable and "cool" gymnasium, where around 500 volunteers will come together to prepare 250,000 meals. This effort will help meet the needs of those in need within the Collier County community.
Volunteers are needed for the 2 hour wrap event. To learn more about how you can help or donate, visit the event website at www.mohmi.org. or contact Bill "Captain Happy Hope" Morris at 239-642-6020, or through The Law Offices of William Morris, 247 North Collier Boulevard, Suite 202, Marco Island, Florida 34145.