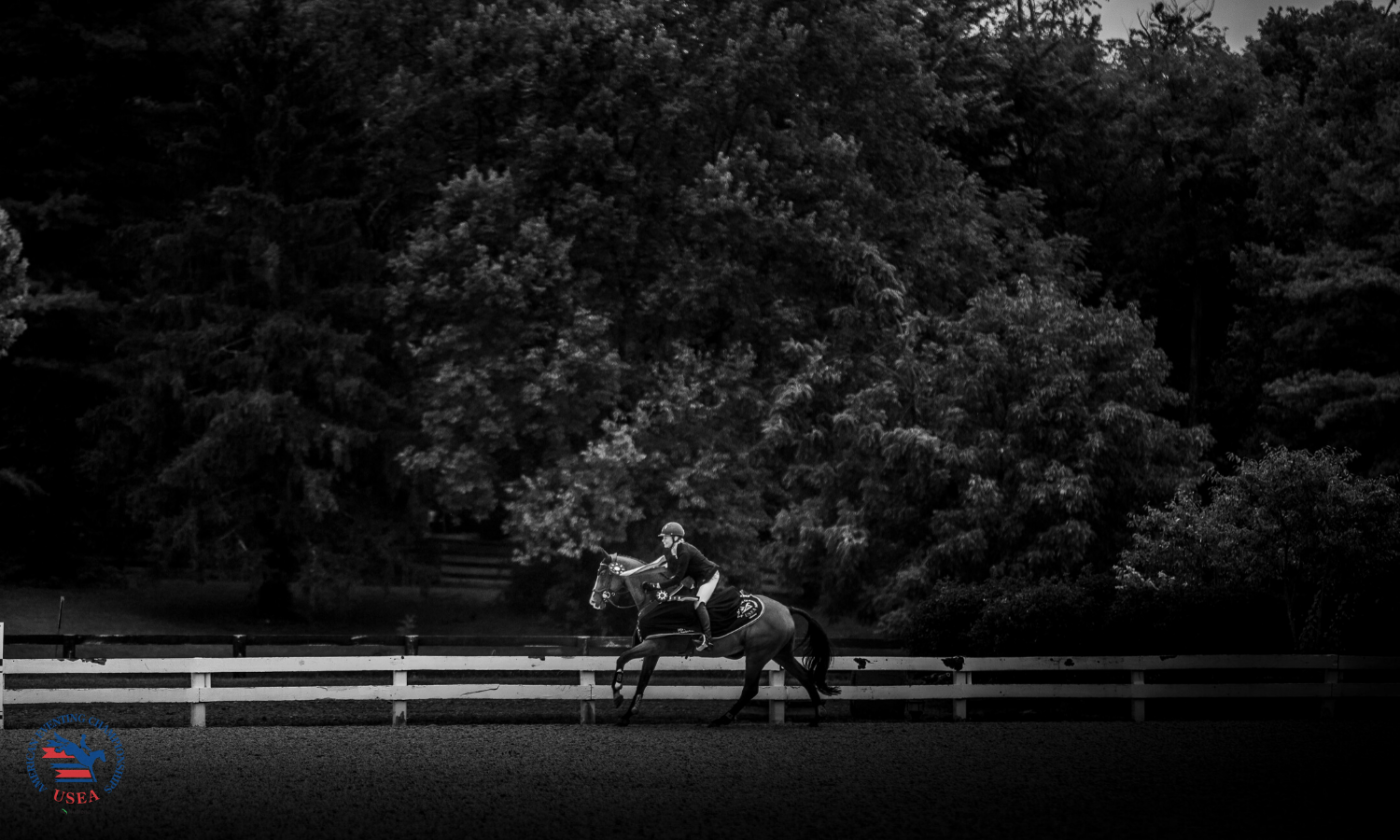 Thoughts from an ACS volunteer
Sep 18, 2021
Thoughts from an ACS volunteer
Perhaps one of the best reasons for being a member of the USEA is the opportunity to qualify and compete in the USEA American Eventing Championships (AEC) presented by Nutrena Feeds. This year, there was a record 1,178 registrations and a waiting list of over 150. There were 1,009 bibs distributed and 939 horses entered the competition. All combined, this made for the biggest equestrian trials in the history of the USEA. Competitions were held in all divisions of the USEA and additional prizes were awarded to teams, incentive programs, amateurs and young riders.
There were six days of competition, four of which saw all three phases for different divisions take place at the same time. It took considerable creative planning to manage multiple outings across all three disciplines over multiple days. Each day ended with an evening offering of a feast and social gathering.
Every competitor of all skill levels had the opportunity to ride a cross country course designed by 2020 Olympic designer Derek di Grazia and all modified, training, novice and beginner courses went through Head of the Lake. Each competitor was able to complete a show jumping course designed by Robert Murphy in the Rolex Arena.
This extraordinary USEA Championship was organized in collaboration with Equestrian Events, Inc. (EEI) and Mary Fike. EEI started by Edith Conyers, developed by Janie Atkinson, and currently competently led by Vanessa Coleman has provided the sport of international eventing from the start. Mary Fike and her awesome team have produced several events (including the 3-day long-format Hagyard Team Challenge) at Kentucky Horse Park every year for over 40 years.
It took 20 public servants, more than three dozen paid staff, and 252 volunteers who filled 653 shifts for the magic to work for a week. And these are only the people who have had formal changes. Several hundred overtime hours were given by people filling up, shopping, seeing a potential hiccup and resolving it. Everyone came together to make the AEC a spectacular competition for all who came.
The competition required the use of five competitive dressage warm-up arenas and an appropriate warm-up, two loin arenas, 196 cross-country fences and the appropriate fixed and adjustable warm-up fences, and the use of of the iconic Rolex Arena for show jumping as well as a warm-up ring. All the jumps were freshly painted, dyed and beautifully decorated and presented. The efforts concerning the preparation and maintenance of the soles, office tasks, signaling, announcing, medical and veterinary coverage, scoring, repair, stable, radio communications, reception services, the wrestling and feeding of the volunteers, the parking for the horse trailers for 1,000 horsepower, the traffic control and a myriad of daily tasks was simply mind-boggling. There has been a fair and strong sponsorship at all levels.
My role this year was that of a volunteer. This allowed for many opportunities to see how the competition was a fabulous experience for so many people and to add a skill set to help make it happen…. and to relay some of the unusual things I saw, of course!
The Kentucky Horse Park was beautifully leafy, even though it was in the process of tearing down the stables and arenas for a straight month of Hunter / Jumper shows that ended on Sunday. The AEC horses moved in on Monday as loads of stall semi-trailers and temporary horses left. The staff did everything humanely to turn around and welcome our competitors. The Horse Park has established a series of equestrian trails to separate them from motor traffic, including people to stop traffic to ensure horses have priority. These trails allow horses and their teammates to access all of the park's competition areas. On the rare occasion that a horse / rider lost its way (or its mind) and entered the asphalt road, someone would get out of a car or golf cart, stop traffic and steer the horse towards a path.
More than a crisp morning, you heard cries of "horse running free". As you looked around, you saw a couple more break away from their masters, and then a collective effort ensued to capture these creatures on the loose.
The competition was interrupted by torrential rains as Hurricane Ida passed between Louisiana and New York on Tuesday and steady rain set in on Sunday. The days in between were glorious and sunny, although at times windy thanks to the Kentucky fall weather. The cross-country foot was perfect, the century-old turf was well prepared and as good as the cross-country foot.
There were so many wonderful horses. Many were young and we will see them progress to the higher levels. Every once in a while a horse, whatever the phase, would stop you dead. You delayed your work a bit and just enjoyed the performance in front of you. The vast majority were well trained and well ridden horses competing with excellence at their level. I have heard a lot of good coaching, as well as lessons in humility thanks to your horse (familiar to all team members). There was a lot of awesome riding at every level and a number of wonderful horses perfectly suited for their job. The winning races in most divisions had a total score in the 1920s and there was a junior novice beginner pair who finished with a final score of 18.5. Many people traveled great distances to participate. I haven't spoken to a competitor or support crew who didn't think it was worth it. As with any championship, each horse has a "story" to make it happen. It was nice to hear them and see how well worth the effort.
I saw many people hacking and taking videos of Horse Park, amazed at what they saw. I chatted with a girl and asked her what impressed her the most. "It was the green and the trees," she said, then added quizzically, "but I keep looking for the mountains." Realizing she was from Mountain West, I explained to her that she was in the Appalachians and while Lexington was probably around 1,000 feet above sea level, the largest mountains were around 3,000 feet. She wasn't very impressed that you called something 1000 feet "in the mountains". I suggested she qualify and do her best to get to the AEC next year at Rebecca Farm. There won't be bluegrass, but there are definitely mountains.
On the fourth day there was the coach / mum of two primary age children who at the end of what was obviously a long day said "Come on kids". What tired, still child said "where are we going?" Without ever looking back, Mum said, "You won't know until you come" as she walked away. The two children followed fairly quickly.
My fellow volunteers have been wonderful. They were punctual, cheerful, knowledgeable, and ready to deliver the best eventing experience possible. I have recognized many of them as longtime competitors, officials, coaches and volunteers of the EEI and Mary Fike competitions. Their understanding of the sport and their dedication to making the AEC the best high quality competition possible was impressive. Every once in a while you would hear the kind of scrambled radio transmission you do on the hot afternoon of the 4th day of dressage where the 272nd novice horse has been sent to the start box. They were always followed by an apology, a chuckle, and "it's been a long time …" Those of you who organize / work on two or three day events have a life-size picture of how after three full days of competition, you've spent enough. But at AEC at this point, you're only half done.
We have all felt brain dead at some point in the week, but we were recharged by co-workers coaxing us back to the task at hand. Or by telling some of the best 'once in X competition' stories I've ever heard. Considering the volunteers' experience, the stories were remarkable enough to help you focus. One of my favorites involved a volunteer at a competition who complained that "the drinking water was dry". We've all struggled with what that could mean, and a week later, I have no idea. I asked him what his answer was? "Try soft drinks, they may be less so."
A lot of people I've talked to have said, "I think I'll go home and try to qualify my horse for next year and go to the AEC. I can't think of a better compliment for the USEA and the AEC organizers than the horse people on the field at the championships thinking they want to compete next year.
We the volunteers have been thanked by someone in almost every other group of people passing by. It didn't matter if I'm doing an obvious job, digging with a shovel, or leaning against the fence, many people have expressed their appreciation for the volunteers every day. At least half of the runners individually said thank you and if they didn't, someone from their associated group did.
AEC 2021 – a raging success … check!
---
Pat Maykuth is a rider, trainer, certified official, former organizer, member of organizing committees, former principal investigator of the USEA Study on Equine Exercise Physiology Leading up to the Atlanta Olympics and a volunteer where he takes a village.