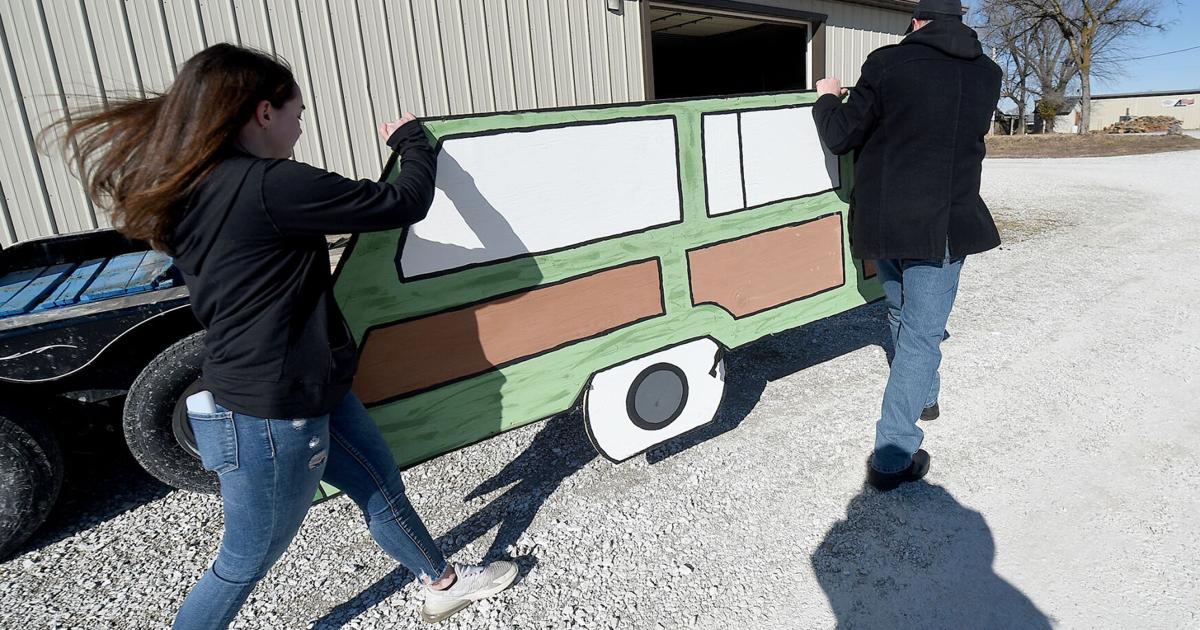 Volunteers Help 12 Nonprofits at CJ Chamber Event | Local News
Many tears of joy and 'thanks' filled the air as a force of 90 volunteers stepped forward on Saturday morning to help with various tasks at 12 nonprofits in an effort set up by Carl Junction Area Chamber of Commerce.
Cavanaugh Studyvin, executive director of the chamber, said the effort, called The Chamber Project, was something she had dreamed of doing since she was hired as director.
"It was one of my list of items when I got the job at the chamber a little over a year ago," Studyvin said. "I knew I wanted to do some kind of volunteer day and give back a bit because the community and nonprofits hold a very special place in my heart."
So, after completing his first year in the chamber, Studyvin began planning the effort.
"I knew I wanted it to be when it was cold because I wanted to do it at a time when we might forget about volunteering," Studyvin said.
She said volunteering that happens outside in warm weather, such as gardening or cleaning, is important, but she also wanted to focus on things to do indoors and that February seemed like the perfect time. .
Studyvin also said bringing volunteers to nonprofits is a way to thank them for doing what they do every day.
"In addition to giving back to our amazing community partners and organizations, my main goal was for the people who volunteered today to make a real connection to the organization they volunteered with and continue with that organization," said Studyvin. "It's really the lasting impact."
For Stone's Corner Pharmacy volunteer Isa Greenwood, one of 18 pharmacy volunteers, this concept hit the nail on the head. Greenwood, who was previously unaware of the existence of the Neighborhood Life House, said she found a place that matched her Christian values.
"I'm hooked," Greenwood said. "I believe it was for me to find this place. I will definitely be back – there is plenty to do here.
Stone's Corner, which served as the presenting sponsor for the project, also provided the services of employee Deedra Perron, who volunteered at the Joplin Humane Society. Perron said she would likely return to the shelter to volunteer.
"I heard 'animals', and I was into it," Perron said. "It was very enriching. I love them so much it's going to be very hard to leave.
So hard to leave in fact that Perron is considering volunteering at the shelter during his lunch hour at Stone's Corner.
This help is welcomed by Chloey Hensley, volunteer coordinator at the Humane Society shelter.
"The struggle is real to retain and retain volunteers," she said. "We have a handful of people who come and they are religious about coming and helping, and they are really our backbone here. However, even a person who comes for an hour is so helpful.
Seven volunteers helped on Saturday with tasks ranging from dismantling the Christmas parade float, cleaning and decorating a Valentine's Day party for young volunteers and walking, bathing and socializing with locals. pets.
Sarah Alumbaugh, a US Bank volunteer for the project, served as team leader for the event while supervising several volunteers who organized residential paving and measured and priced carpeting at Habitat for Humanity's ReStore.
"For it to be a Saturday – and it's a cold Saturday – and that we've had that many people, I think that's huge," Alumbaugh said.
She added that volunteers of all ages answered the call to volunteer on Saturday, with some as young as 11.
While checking in on the volunteers at the Ronald McDonald House of the Four States, Studyvin reflected on the day's activities.
"A lot of people came together to make this happen," Studyvin said. "It wasn't just me, and it wasn't just the bedroom. It took a village. It exceeded what I thought it was going to be, and in a great way. My goal was 50 volunteers and about eight nonprofits, and today we were able to have 90 volunteers and 12 nonprofits.
Studyvin explains the high attendance to the fact that it was only a half-day of work, from 9 am to noon.
"I think that's why it was so successful. Only having this half day, you volunteer for three hours and you still have your Saturday," she said.
Realizing that the majority of nonprofits have a small staff and rely heavily on volunteers, Studyvin wanted to focus on having volunteers take care of some of the small tasks.
Studyvin is optimistic about what volunteer involvement will mean for the next year.
"We plan to do it every year – it will be an annual thing," she said.
Bright Futures Carl Junction, Fostering Hope, Watered Gardens, Lafayette House, LovinGrace, the Alliance of Southwest Missouri, FosterAdopt Connect and God's Resort have also benefited from the Chamber Project.