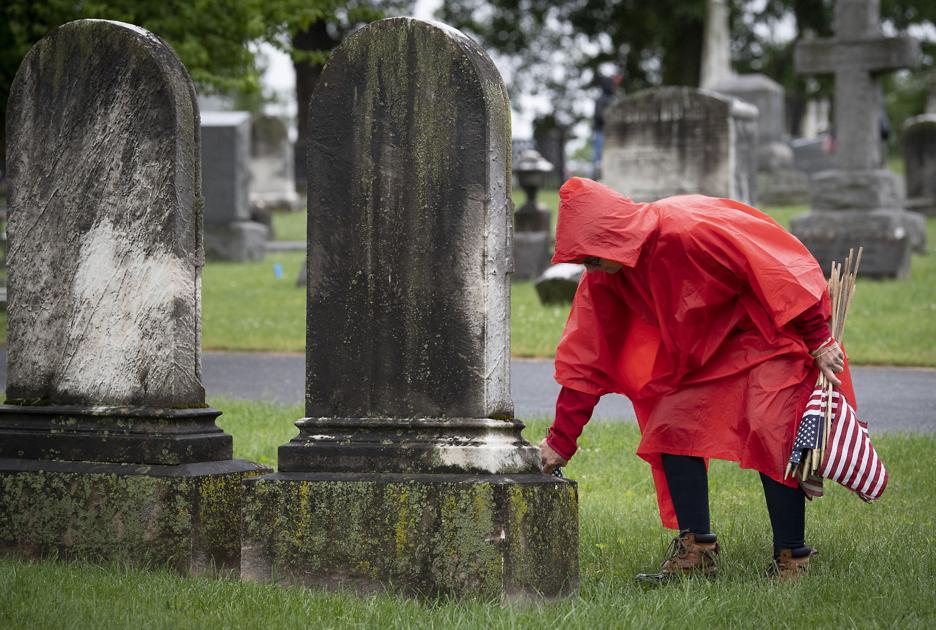 Volunteers plant 4,000 flags across Mount Olivet Cemetery for Memorial Day | Culture
Keith Clevenger's notes are scribbled on the covers of the paper files and on the backs of the cemetery maps. It's a scrawled mess of crisscrossing letters, numbers, and correction marks, but for him – and those helping him translate them – it's a call to action.
Clevenger, along with other members of the American Legion Francis Scott Key Post 11, work each year to ensure that each of the 4,000 veterans buried at Frederick's Mount Olivet Cemetery will receive a new American flag to mark the Memorial Day gravestone. He collects the names and official counts of fallen service members in each section of the 100-acre cemetery, and sends volunteers to visit them all.
Community members broke into the cemetery to help with the effort on Saturday, despite the pouring rain and unusually cold wind. They made their way through the rows of gravestones, calling each other as they searched for the names on the list given to them.
"They deserve it," said volunteer Lamar Reese. "I hope someone would do the same for me someday."
Reese, a Legion member and resident of Frederick for 20 years, hadn't been to the flag-laying event until Saturday. Nor does Elizabeth Browning-Elan, leader of an American Heritage Girls troupe based in Ijamsville.
"It's really good for the kids," said Browning-Elan, who brought her 8-year-old daughter Emma Grace. Next time, she added, they will bring brooms to brush some of the older graves, which are often covered in moss and hard to read.
Groups like Browning-Elan are a big part of the effort, Clevenger said. Every year, Scout troops, ROTC members and sports teams show up to help plant flags.
The FSK Post 11 is recruiting volunteers to do the same work at other cemeteries around Frederick, Clevenger said, and the county's other four legions are holding similar events in their areas. But Mount Olivet is the bigger business.
Among the thousands of veterans buried there is Brian Hissey, Clevenger's longtime friend and former post commander. Hissey took the lead in distributing the flags for years, Clevenger said, but passed away in February 2020.
"It was her baby," Clevenger said. "Big, big, big shoes to fill."
Much of the volunteer effort comes from local veterans and their families, he added – often members of the legion who have made it an annual tradition.
Nanette Markey, for example, cannot count the number of years she comes to the cemetery before Memorial Day.
"We lose all sense of time as we get older," she joked, slowly walking through Section D of the graveyard and calling for instructions to her group, clad in brightly colored ponchos that loomed against the gray sky.
Markey's husband, Rob, is a member of the Legion and she is involved with the Friends of Mount Olivet. She regularly volunteers to clean and restore graves, and enjoys the peaceful pace of moving around the cemetery.
Tom Long, a friend of Markey's who coached the Legion baseball team and volunteered to raise flags for 18 years, said it was always a rewarding experience.
"You give back a little something to the veterans who fought for the country," he said.