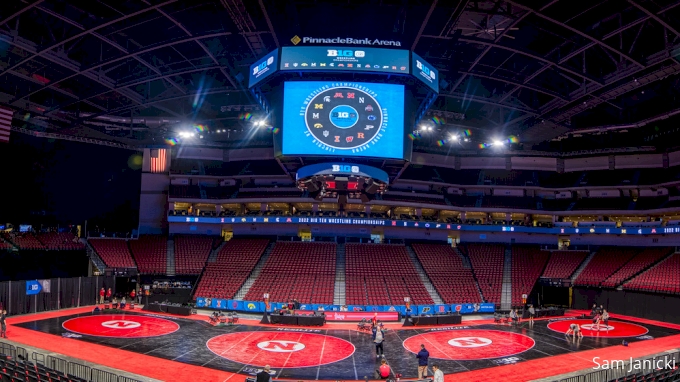 What does the latest round of conference realignment mean for wrestling?
A B1G bombshell fell Thursday when UCLA and USC uprooted themselves from the Pac-12 and fled to the Big Ten.
The latest round of conference shakeups have impacted the rapidly changing landscape of college athletics, and while no wrestling program is directly involved – yet – it should have an impact on the sport at some level in the coming months.
What does this mean for Big Ten wrestling?
Thursday's news fueled immediate speculation that UCLA and USC could launch wrestling programs upon their arrival in the Big Ten. Although the conference's current 14 institutions sponsor the sport, wrestling is not league-mandated for membership.
"My understanding is that Big Ten schools are under no obligation to have wrestling," said National Wrestling Coaches Association executive director Mike Moyer. "It really is a myth that exists."
Moyer has seen more than 300 new programs join the college ranks since 2000, nearly all of which were started by smaller schools seeking increased enrollment.
"These Power Five schools, generally speaking, aren't fighting for enrollment," he said, "so it's a real cost."
And the price is huge. In discussions with other Power Five schools about adding wrestling, Moyer has generally heard a similar starting figure — $20 million — for wrestling backers to bring to the table.
"What that basically means is (you have to) secure funding for the program in perpetuity and it won't require the athletic department to drain resources from any of their existing programs – that's usually what we hear when we approach a school of this caliber," Moyer said. "Remember an endowment pays 5%, so on $20 million, that would be $1 million (per year to run the program) and that would put you in the neighborhood."
But that ignores the gender equity element of the equation. In all likelihood, it would take something on the order of an additional $20 million to fund either a women's wrestling program or to add another women's sport to resolve for Title IX compliance.
"It's not like (UCLA and USC are moving to the Big Ten) to spend money, so it's probably the status quo," Stanford coach Rob Koll said. "It's difficult to add a men's team. If you're a sports director, why would you add a wrestling team unless you really love the sport or unless there are a lot of active wrestling alumni? And there isn't because they never had a team at USC and they haven't had one at UCLA in a long time.
But Koll also pointed to one thing wrestling worked in his favor in this case — the move-in ready conference home the Big Ten could offer. Moyer said finding landing spots for the conference has been difficult for wrestling in past attempts to add major college programs, which clearly wouldn't be an issue in the Big Ten.
"If there were to be an opportunity to get a Power Five school to add wrestling – the Big Ten conference, obviously wrestling was wildly successful – I would say on the surface, if we were ever to have a chance , that would be all in those circumstances," Moyer said. "But there are a lot of fiscal pressures that even Power Five schools face today, so that remains to be seen."
What's next for the Pac-12?
The Pac-12 struggle has stabilized over the past year after the league found itself on shaky ground. Just 15 months ago, Stanford wrestling was on the chopping block and other conference coaches wondered if locking with another league, like the Big 12, might be the best way forward for Pac-wrestling. 12.
"If we say we're done – because we've had this discussion – what if the world changes in 30 or 40 years and USC wants to add wrestling? Or UCLA? Or Washington? the coach said. Arizona State, Zeke Jones, last spring "Well, then there's no Pac-12 wrestling, so why add it?"
Pac-12 wrestling remained tight, Stanford reestablished its program, and the league had a banner year last season with four teams — Arizona State, Oregon State, Stanford and wrestling affiliate Cal Poly — finishing in the top 25 at the NCAA championships.
But the conference's realignment has been driven by big-budget TV deals generated by soccer powerhouses in major media markets, and Olympic sports are being taken on the journey. So when the Pac-12 lost two of its key institutions last week, it put the rest of the conference on high alert.
The Pac-12 media rights deals expire in 2024, and the loss of UCLA and USC could cost the conference $200 million a year, estimates former Fox Sports Networks president Bob Thompson.
The Pac-12 released a statement last week saying its board of directors had "authorized the conference to explore all options for expansion." But as the league looks to add, Pac-12 staples Oregon and Washington have reportedly contacted the Big Ten to check the temperature while jumping alongside UCLA and USC. Reports have also surfaced that Arizona, Arizona State, Colorado and Utah will meet the Big 12 on Tuesday.
"If you read the various articles," Koll said, "there are a thousand assumptions and opinions about where this is going to go."
If the Sun Devils get into the Big 12, it will almost certainly spark another round of talk about the best way forward for the Pac-12 fight.
"We can spend a lot of time speculating on what may or may not happen," Moyer said. "The important thing for the wrestling community is to really focus on the things that we have control over – making wrestling relevant in school, in the community, making sure we succeed through the new component academic of revenue sharing, RPA, building strong relationships between coaches and administrators, focusing on those things and bringing as much value to universities as possible.